On Sunday Javier Escamilla took me on a tour of the Jamaica Market. As we walked he described section by section what the stalls used to look like before the 1985 earthquake and who sells what when, depending on the day of the week and whether the flowers have been delivered fresh.
It's not like I haven't visited the market dozens of times — it's one of my favorite in the city — but Javier has been at the market almost everyday since he w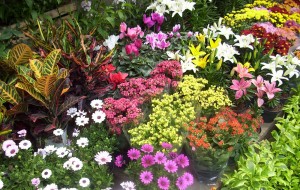 as born. He comes from a long line of locatarios — the market's vendors — and inherited the stand where he now sells raffia and shoe polish from his mother. Javier's grandparents sold at the market when the stalls lined La Viga, the canal that ran through the neighborhood right past where the market is now until it was drained and paved over in 1957.
Every morning, Javier's mother used to drop him off at the market's nursery. It's a bit hard to imagine that in the midst of all the buying and selling chaos there was and is a place for sleeping babies and rambunctious toddlers, but the nursery still exists for the vendors and their families, even though it's no longer obligatory like it was when Javier was a little guy.
These days kids run wild in the market and for the two weeks or so before Day of the Dead the place becomes a kid paradise, with painted skulls made out of sugar, multi-colored papel picado flags and candied fruit dripping with syrup. Shoppers come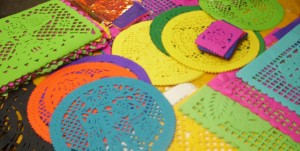 and go all hours of the day and night, and the market's flower section never closes. The variety of daffodils, daisies and dahlias is overwhelming. Next time you have a hankering for a bouquet of lilies at 3 in the morning, you know where to go.