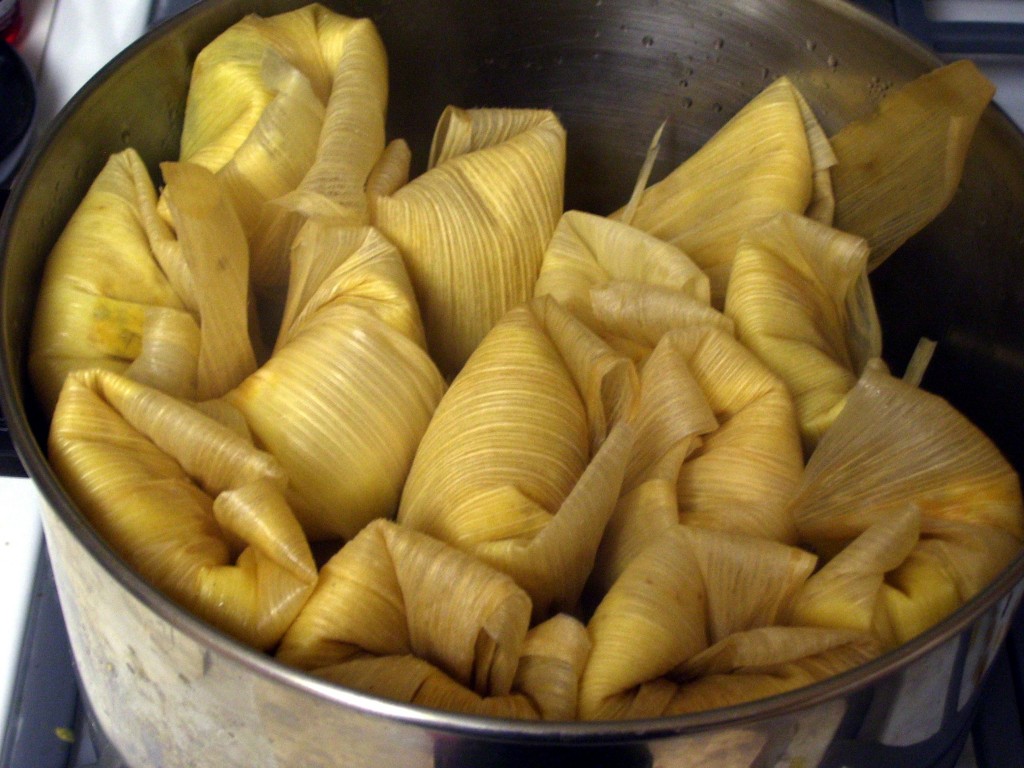 I don't even like tamales. My Mexican friends think that makes me prissy.
But let's just set the record straight.
I don't like polenta either or hominy or grits. It's not that I'm particularly against tamales, just that grainy corn masa that sits in your belly like a lead weight.
Regardless, I had to try out Tamales "Doña Emi" – those aren't my quotes, that's what it says on the sign, like Doña Emi is code for something else.
Dona Emi's is a fourth generation family business one block from my house in the Roma. When you walk in, her slightly disapproving face looks down at you from a frame on the wall, almost daring you to order the wrong thing.
It's ten by the time I get there, the place is still packed with people and they only have two kinds of tamales left, the jumbo-sized mushroom and pork tamale or the regular-size pork in green sauce. Not that the regular is small – about the size of a baby's arm.
Later when Emi's great grandson gives me the list of all the kinds they make — in case I want them to cater an event — I see that they have rajas con queso which is a guisado I love and also lomo de cerdo con aceitunas (pork with olives) that I must admit I'm curious about.
The only thing to drink is atole (a hot, milky drink made out of what else – corn) and rice milk. I figure I should go all out and get the atole while I'm taking the day to celebrate corn products.
The tamale basics are this: The corn is ground into the size of rough meal and mixed with water to make a thick, pasty dough. Then clean corn husks or banana leaves get the dough spread into them like mustard on a bread roll – but thicker. Whatever salsa is going in (red or green) gets smeared onto the dough and then a few pieces of chicken or pork are placed in the middle and the little corn husk envelope is folded up and tied with a string and placed in a giant steamer.
What happens in there is pretty amazing, because what was once a few thin layers of corn meal and salsa puff up into this full blown corn bomb.
What I find interesting (and dangerous) about tamales is that mixed in with the salsa and masa is meat often on the bone. Which makes a person a tad wary about just shoveling it in to your mouth.
Once at Christmastime I helped make something like 500 tamales in a day. The Ramirez family, whom I was helping, lived in a tiny farm community and according to tradition they fed members of the Christmas procession tamales on Christmas Eve as they passed by the house. They plan on average 5 or 6 tamales per person. What?!
I couldn't even finish my regular-sized pork in green sauce tamale at Doña Emi's and I could feel her chastising me from the wall. But it was good – tangy, spicy, with delicious enough pork that I was searching around for it among the layers of corn. And now I understand why comida is at 3pm, cause I'm going back to bed to sleep off all this corn.