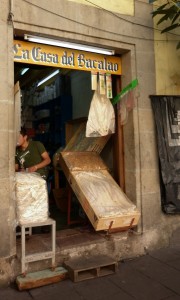 La Merced is traditionally known for two things: the market and the prostitutes. But in this neighborhood, one of the city's oldest, there is a pedestrian walkway where office workers come to eat lunch or take naps under the shadows of saints; streets that were once the canals that functioned as the city's commerce routes; and enclaves that have long been home to Lebanese, Spanish and Jewish immigrants.
There is also lots of buying and selling.
This was and continues to be one of Mexico City's main commercial centers and not just because of the 2-hectare La Merced market that has made the neighborhood famous. Entire streets are dedicated to selling shoes or leather goods or costumes for porcelain baby Jesus statues. The walkways are lined with buildings constructed with storefronts on the bottom level and living quarters above or skinny streetfront doors that lead down narrow hallways to apartments clustered around incredible open-air patios in the center of Porfirio-era buildings.
The la Alhóndiga bridge in the center of the neighborhood is where all the vendors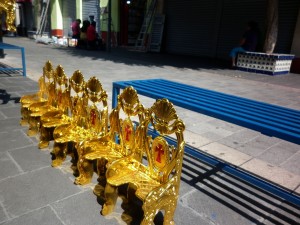 from the city's provinces once paddled up to to pay the tribute required of them to sell inside the city. The original La Merced market was never big enough for the amount of commerce happening in this neighborhood and so vendors just expanded out into the streets. This combination of indoor and outdoor stalls continues today and a delicate hierarchy exists among those with permanent indoor stands, temporary outdoor stalls and those that sell their wares laid out on the street. The extreme example is the "Callejon de Belleza" where on Saturdays women of all ages get waxed, dyed and flat-ironed, right in the middle of the sidewalk.
One of the most pleasant surprises of La Merced is Mesones street — the most tree-lined street in all of downtown. Home to the Al Andaluz restaurant, famous as one of the best Lebanese restaurants in the city and tucked quietly into a unassuming patio at #171.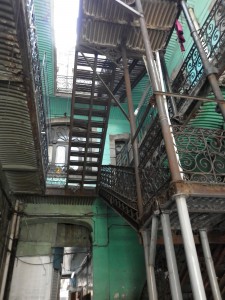 There is so much more to this neighborhood than its mala fama. It's chock full of myth and magic, eagles with serpents in their mouths and baby Jesuses dressed as soccer players. Don't be afraid to venture out of the market and wander the streets of La Merced – it will surprise you with its charm.