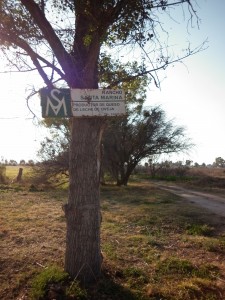 When I show up, Javier Pérez Rocha is nowhere to be found. I hesitantly begin to wander around the ranch looking for him, asking a few of the many workers quietly and busily humming around the place. When I pass the sheep's pen, which I find out later is the love nest where a couple dozen females are enclosed with one male for about 34 days (two fertility cycles), the sheep walk right up to the fence and poke their noses through.  They sniff at my camera and nibble at my fingertips, they have an amazingly fearless attitude towards me. Javier tells me later this is because they are in constant contact with humans from the time they are born. At Santa Marina, Javier's cheese farm just outside of Querétaro, they are dedicated to caring for their animals in a humane and loving way. Each tiny, baby lamb is bottle fed by hand instead of with a machine and his over 200 female sheep munch lazily about on their 20-hectar farm … looking really happy.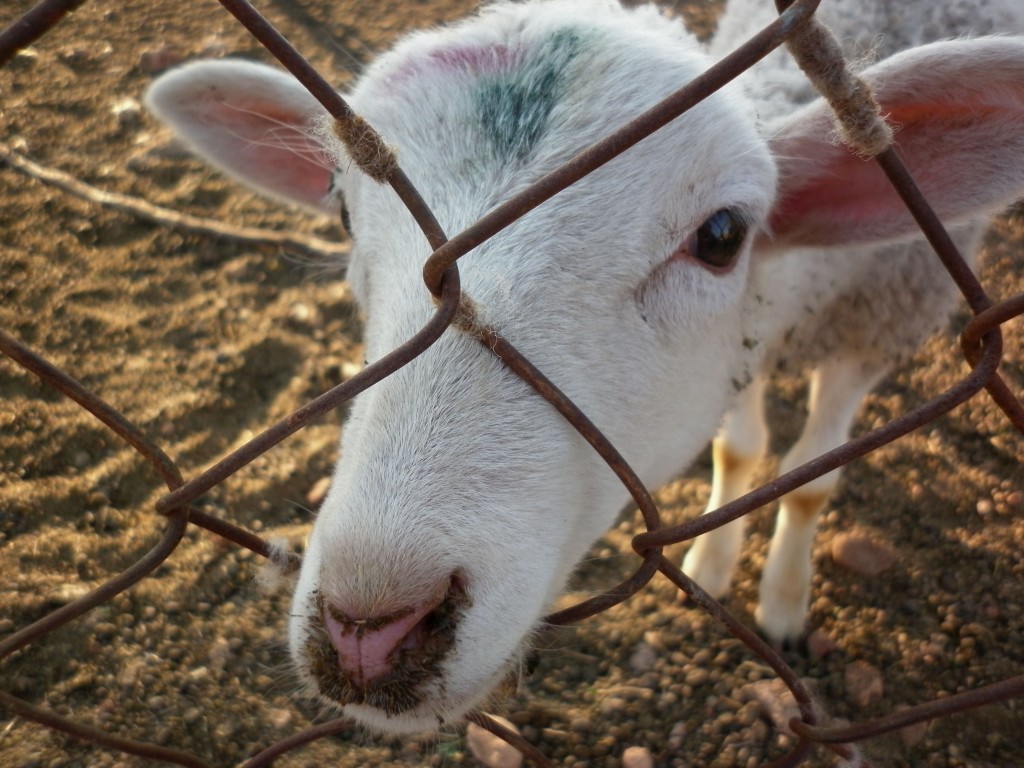 I feel like I'm having a Micheal Pollan Omnivore's Dilemma moment. Javier has an integrated approach to his farm that he started when he cut down from an ex-port- focused 70-hectare asparagus farm to the 20-hectare farm he has today. He rotates his grazing plots on a strict schedule, uses drip irrigation for watering and plants native mesquite trees because as legumes they fix nitrogen in the soil, improving its fertility (and the sheep like to chew on them). Cows, chickens, a green house, a garden, a weaving loom and even a pizza parlor are all included in Javier's ideas about "rural tourism" and what he envisions for Santa Marina.
"I want to build a small hotel out here so that when guests come to stay they can pick their own salad ingredients and collect their own organic eggs for breakfast."
For now, the president of Mexico's national cheese association is focusing on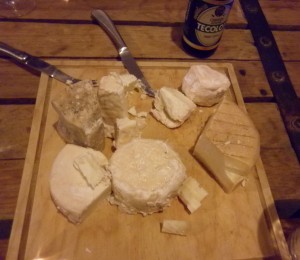 pre-arranged tours to the farm and cheese tastings – sometimes with wine and sometimes with a local craft beer, Tecolote. According to Javier the real way to taste is with just water – that way the cheese is the star.
From the tasting room table you can see right into the cheese cave, where rows and rows of sheep's milk cheese mature for 21 to 60 days until they are shipped to distinct locations in Mexico.  "In a way, I like the fact that my cheeses can't travel long distances," he tells me. "They are more special that way, a luxury item you can't get just anywhere."
Santa Marina's semi-madurado is aged 60 days and has an herbal, earthy flavor that sticks in your mouth for several minutes. Rocha says this cheese has the strongest distinction of being made from sheep's milk as opposed to cow. The primade is sharper and drier than his other, creamier cheeses but retains a smooth texture on the tongue. The perial has a tangy, fungi taste, the crottin is Camembert creamy with an oaky aftertaste and the chabichu is definitely the cabernet sauvignon of the bunch – a bold, deep tang and smooth as silk.
By the time I have tasted them all and downed a few beers it's pitch black outside and the wind is starting to pick up across the fields. Javier's caretaker, who watches the sheep during the night, is sitting up in a tiny little house in the middle of the field with one burning light. I wondered if he is already counting sheep.