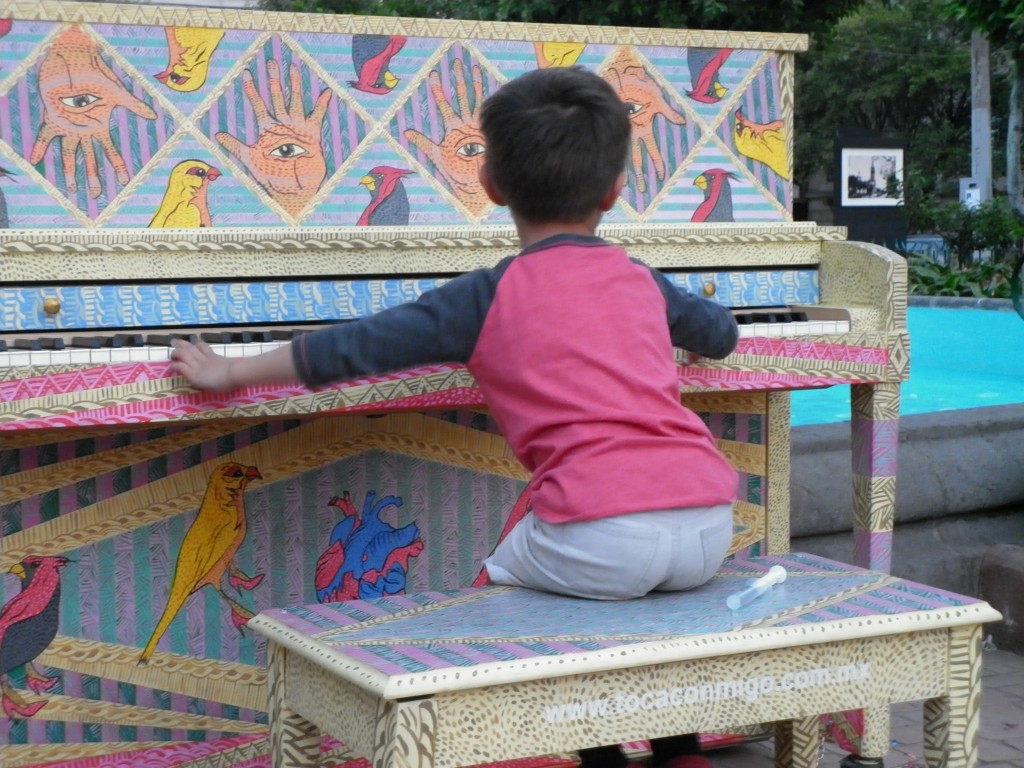 At four am on random mornings the past week or so the neighbors of Rio de Jainero Plaza have been treated to a piano recital outside their bedroom windows.
Not everyone appreciates this phantom of the opera performance, but a piano in a public plaza is just asking to be played in the middle of night.
Supposedly the mystery player is a homeless virtuoso who comes from a family of renowned piano players. "Toca Conmigo" is definitely bringing the piano players out of the woodwork. Check out this guy:
His name is Gabriel and we saw him play on that same Rio de Jainero piano. He had just come from the main plaza in Coyoacan, on a mini Toca Conmigo tour.
Before that, Ariel, who had never seen a piano before, and his sister, who yes, had played one once, tapped out Mary had a Little Lamb, giggling nervously.
The best part is that in a city of 28 million people, five of us talked to one another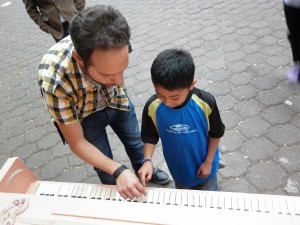 for the first time.
That was artist Luke Jerram's original intention when he created the street pianos project. In the last 6 years 1,400 pianos have been installed in 45 cities across the world and hundreds of thousands of conversations have sprung up.
According to the website, 20 pianos are scattered across Mexico City. Last Friday, on a search to find them, we came up empty in the Santo Domingo Plaza and the Alameda downtown but found them alive and well in the Rio de Jainero and Luis Cabrera Plazas of the Roma.
I've always thought that piano players were a special breed, but the ones we saw playing, I mean really playing, not just tapping out Yankee Doodle like me, practically snuck up to the piano, put their heads down shyly and then regaled us with these five minute sets. Afterward, they demurred at the applause and timidly skulked off. It was only passion for the piano that had brought them to the plaza, they were visibly embarrassed by the attention.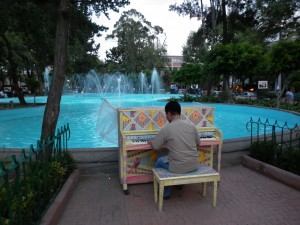 There once was a time when pianos reigned supreme in homes and classrooms in the Western world. When they represented entertainment, good breeding and even flirtation. But who has pianos anymore? Besides family heirlooms so out of tune they are practically unplayable? How many of the kids in Luis Cabrera Park are seeing pianos for the first (and maybe the last) time in their lives? They're their model-Ts and phonographs.
Toca Conmigo will only be around until the 13th of April, and even though there have been some whispers that the pianos may stick around longer, it's something you'll want to see just in case, just as they were suddenly there, they will suddenly disappear.