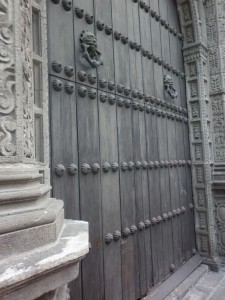 We didn't get lost. The dog may have gotten sick and shit in the car and it may have rained almost the whole way home and I may have eaten so many M&Ms that I gave myself a stomach ache, BUT we didn't get lost. And that pure act of god has now made Puebla my favorite day trip out of Mexico City.
Puebla is 1 hour 40 minutes by car, more like 2 and half if you have a '98 Chevy S10, and only a two hour bus ride from Mexico City. Highway 150d spits you out of the city smog and sprawl into a broccoli–green forest and takes you all the way to Puebla in one shot.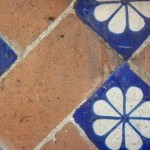 The city itself, according to guide Rebecca Smith Hurd (and Wikipedia, I checked), is the fourth largest city in Mexico with 2 million people, but its colonial downtown and main zocalo make it feel about a fourth that size.
I wouldn't choose to live there — I'd never want to live in a place who's downtown is abandoned after 10pm — but still, it has its charm.
Former home of the revolutionary Serdán brothers (and their sister Carmen who was also a bad ass but is often forgotten), birthplace of mole poblano and (reportedly) tacos árabes and home of the owner of the Italian Coffee Company ("Why did he use that stupid English name then?" Erci asks), Puebla has a little bit of everything — gastronomy, history and kitsch.
While we were there they were practicing for the Cinco de Mayo celebration, that for those of you with no knowledge of Mexican history is the day of the Battle of Puebla when the Mexicans held off Napoleon's army, who never succeeded in their supposed original plan — to make it to the southern U.S. to support the confederacy. Think of that today as you drink your salted margarita and eat your nachos with fake cheese.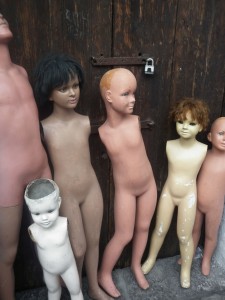 This being only the second time we've been in Puebla (the first was for a baptism) we decided, of course, do to exactly what we liked doing the first time and go to the sapos market, an antique flee market in the sapos neighborhood, named such because of the flooding it used to receive when the San Francisco river cut through Puebla once upon a time. (Sapo means frog).
This little tidbit, along with many others, came from Rebecca, who I met up with in the morning to do a Eat Mexico tour through Puebla with another couple from Omaha. She led us a around trying cemitas, pelonas and other Puebla delicacies while explaining a little about the city's history and how she came to love it.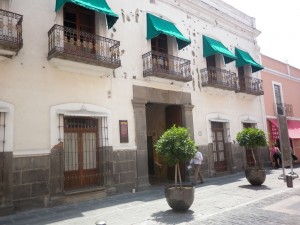 Walking around the city's historic center is a lot like walking around San Miguel de Allende, except instead of most of the tourists being foreigners, most are Mexican. There are decidedly more churches and some incredible colonial architecture (especially nice is the Serdáns' house riddled with bullet holes).
The city, unlike others in Mexico, wasn't built on top of an ancient indigenous metropolis, but from the ground up by the Spanish. The Spanish filled the place with dozens of churches and nuns and monks, in turn, filled the place with lots of food. They are credited for creating mole poblano and many of Puebla's famous candies, according to Rebekah. The best thing on the tour was definitely cemitas de milanesa with chipotle and papalo — a cilantro-y herb that grows wild here.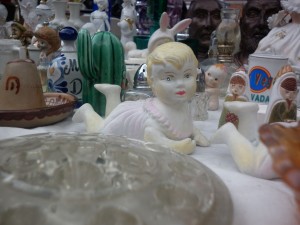 Erci and I met up after my tour at the market. It takes over a plaza downtown every Saturday and Sunday and extends to include the antique stores tucked into the alleyways that surround it. There are aisles of old coins, china tea sets, video game consoles and vinyl records. We found and purchased a beat-up clay bud vase and a pair of old lady earrings. It was like La Lagunilla but quainter (and cleaner), and no one cared that I took their picture.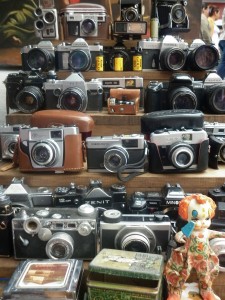 Around the corner from the antique market is a similarly arranged jewelry market, with clouds of incense interspersed with tiny cafes for stopping and having a beer between purchases.
When it started to rain and the vendors scrambled for their plastic tarps, hurrying to protect their vintage books, the pitter patter on the cobblestone took on its own enchantment.
We drove through the rain almost all the way home, but for a few moments the clouds cleared and we could see Popocatépetl in the distance, regal and snow-covered… AND we didn't get lost. So I'd call that a perfect day.