My girlfriend is eating the honey and achiote glazed short rib with jicama, chile serrano and sorrel slices and melon. I'm trying the turkey steak with hoja de santa pesto on top of sweet potato puree and pickled carrots. We're drinking Antolia's house red from Baja California at a tiny corner table near the street.
We weren't even going to stop, but René Cremieux is a persuasive guy and when he went so far as to pull out his iphone to show us photos of Antolia's food AND told us we could bring the dogs inside if we sat at the corner table, we knew that this man was either passionate about his restaurant or in desperate need of our patronage.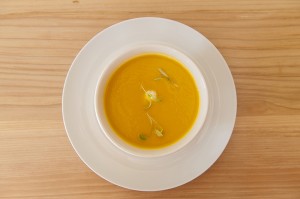 Turns out it was the former. In the past two months, Antolia restaurant, on the corner of Zacatecas and Tonalá, has been drawing a crowd, despite the fact that our first time eating there was just last week. It might be the chill atmosphere or the eclectic art that graces its walls, but I'm betting it's more the quirky and delicious flavors.
René and his partner started converting the space on Zacatecas into a tiny dining room and bar months ago. Dan, his partner, still lives upstairs, where his family has lived for years. Right across from Maximo Bistro, I sensed plans for a mini culinary corridor, but Rene shrugged off my conjecturing.
"For me Maximo is neither competition nor advantage, we're doing something completely different here. I started this restaurant because I like to eat well, and what better way to get to taste everything for free than to run your own place?" he smiles.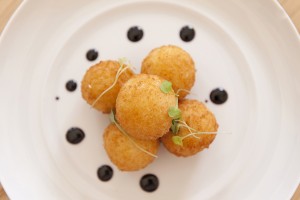 Still, you have to admit that the foodies get excited when good restaurants start popping up in their neighborhoods — like this foodie for example. That takes us to the topic of the Roma. René spent a lot of time here as a kid, and he says it still feels very much like home, even though now he rides his bike in everyday from Coyoacán. What does he think is going to happen to the neighborhood in the next five years?
"Hopefully nothing." he says. "This neighborhood is just like a zoo with all its biodiversity. I wouldn't want it to change."
A rambling entrepreneur, René has worked in music, art, publicity and production and this, his newest project has obviously got him fired up. He waxes poetic about the food, the art on the walls and the heavily Mexican wine list.
"I used to think, who am I to say something tastes good or tastes bad, but now I realize, maybe what I like is more common than I thought because people seem to like we're doing."
What does he recommend for newcomers to Antolia? Boquerones with watermelon.
"The flavor of that dish is brutal. It's everything that is this restaurant on one plate." – a little French, a little Spanish, a touch of Italian, always a hint of Mexican, seasonal ingredients and an ever-changing menu so no one gets bored, including René.
Antolia – corner of Tonalá and Zacatecas Streets, Roma Norte