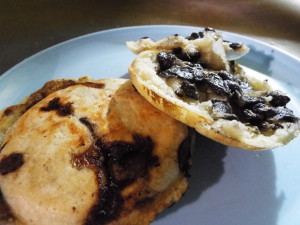 So I had four house guests recently, two of whom are vegan and one of which is vegetarian. I had conveniently forgotten this little culinary habit when planning what I would do with them while they were here. I had visions of us at the taco stand, us, at Jamon J Jamon, us, eating Sunday morning barbacoa. When they arrived and informed me ("I have been a vegan for five years and you NEVER remember, " said my friend Josh) I was at a loss about what to feed them. This is my favorite food city in the world, but it's built for people that eat carnitas, tinga de pollo and at least a tamale or two.
I guess we all went into the experience a little blind. As a first-timer to Mexico (outside of Cancún), Josh thought he could order black beans and rice and guacamole everywhere he went. I kept forgetting that they couldn't even eat butter. The week turned into a bit of a vegan scavenger hunt. I was pleasantly surprised by some of what we ate and expectantly letdown by others. The biggest lesson I learned was that there actually are quite a few options. We ate tacos, platos fuertes, dessert and lots of random things I had never even considered vegan-acceptable. Here's a few places we stopped: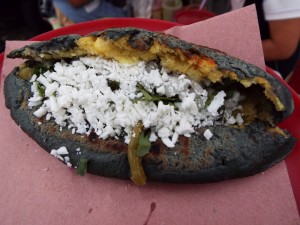 The first day they were in town we checked out the quesadilla stand in front of the Mercado Medellín for some breakfast tacos. The vegans ate mushroom and nopal quesadillas sans cheese, tlacoyos with fava beans smothered in salsa, nopal, onions and cilantro, tlacoyos stuffed with refried beans and the vegetarian tried a tlacoyo filled with requesón. The ladies running the stand were super accommodating about our rambling and massive order. ("no cheese, no meat, less, no more salsa please")
As I imagine all particular eaters must travel, my vegan friends came armed with the tools of war, like the Happy Cow vegan food app that provides you with a list of vegan food restaurants wherever you are in the world.  This gave them a modicum of independence while they were here. While they did accidentally buy chicharrón (pig skin) thinking it was just a chunky green salsa, they were relatively savvy about finding their way to vegan restaurants with the google map on their app.
Pan Comido was one of the winners, a place I pass almost daily and never knew was vegan friendly.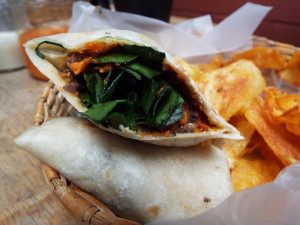 They fell in love with the Lisa Simpson — a soy chorizo breakfast burrito with spinach, mushrooms and refried beans. I had my own version with real egg and cheese. (ask for the pico de gallo to go on top). They also, turns out, have awesome french press coffee — I'm already a regular two weeks later.
We also became fast friends with the kids at the Por Siempre Vegana Taquería on the corner of Coahuila and Manzanillo, a place I thought was closed until I read Jim Johnson's blog piece recently and realized I was just never there late enough (they open from 6:30pm to midnight). For me protein substitutes can't compare to the real taste of grease, but the boys loved the wheat al pastor, and the soy chorizo tacos, and waxed poetic over the black beans and pineapple and jalapeño salsa. (and I admit that I'm still thinking about the vegan tiramisu.)
We stopped in one night at Cate de Mi Corazón (Baja California 295), a vegan restaurant in the Condesa. I was underwhelmed with my tower of portobellos, but they served some interesting hibiscus flower mole and carrot tinga tacos. They also had awesome guacamole (finally!) and vegan nachos made with potato and carrot cheese (can you still call that cheese?). Cate de Mi Corazón has a stand in the new Mercado Roma for all you SUPER hip vegans that want to give it a try in the right atmosphere.
It also turns out that my Colombian neighbor on Tepic street (between Monterrey and Tonala) who serves up arepas and sopes, makes vegan spinach tamales (using vegetable oil instead of lard).  She also feed us fantastic mushroom and huitlacoche (corn smut) arepas hot off the grill. (She's open late too, most nights from about 9pm to 1am)
I took them to the San Juan market and simply avoided the exotic meat section, showing them instead the vast variety of fruits and vegetables, the massive selection of wild mushrooms and the overflowing baskets of dried chiles. We bought Asian noodles and chile sauce for a vegan feast they proceeded to prepare at my house when we got home (by far the best of anything I ate all week).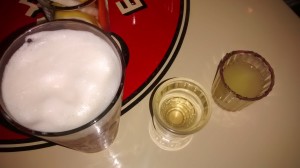 We also drank a lot of mezcal — completely meat and dairy free. And drank a lot of great Mexican craft beer (thank god they weren't gluten free).
Some of the places that we didn't try together but that I took a stab at later where Origenes Organic shop and restaurant and Bambú, a kind of vegetarian comida corrida where you can get a set meal everyday or a la carte items like Curry Vegetables, Falefel, and eggplant "milanesa." Both places are good, but not amazing.
I also did some "research" and tried out Los Loosers vegan delivery service. It would have never worked when my buddies where here because it took almost a week to figure out how to order with them — they post this gorgeous photos every morning on their facebook page and you can order through social media for a delivery straight to your house. Several messages later, I finally ordered a rustic Greek sandwich with white beans, cooked carrots, spiced cabbage and sesame-flavored kale which I loved and an avocado chocolate brownie which was just alright (what can you expect with no butter?)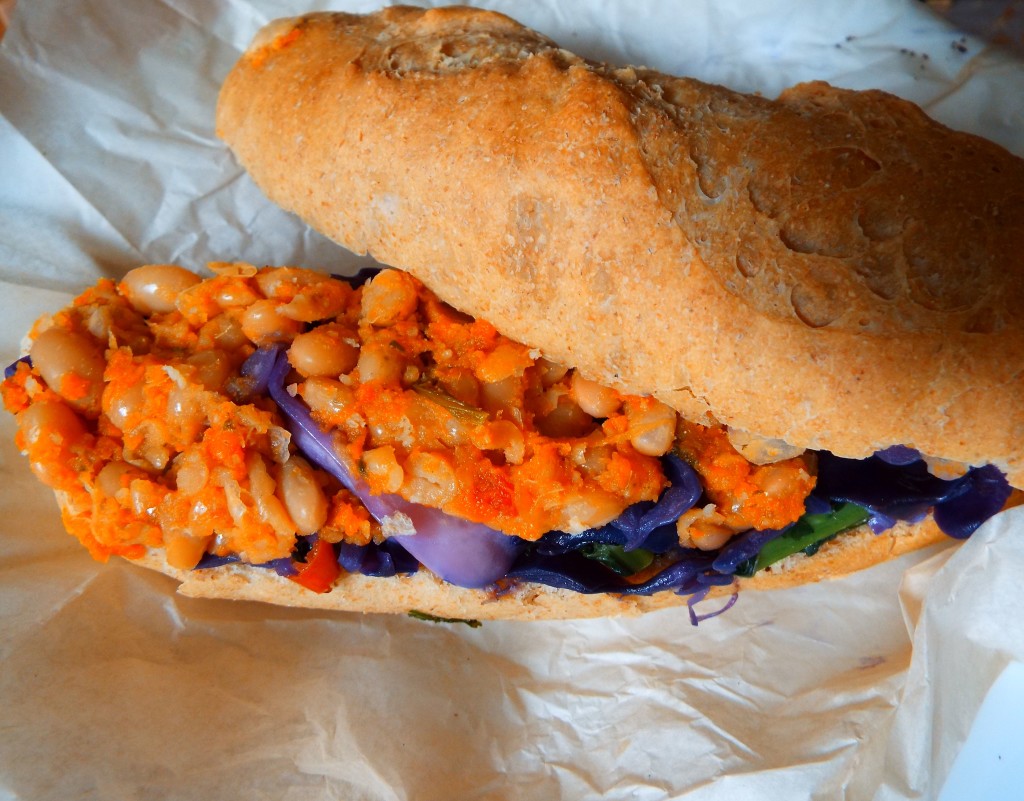 But their photos are getting to me and I find myself sneaking in food porn on their fb page and planning my next order.
As far as my visitors went, I think they got to try some traditional Mexican dishes and some tweaked versions they loved. I am now prepped for all my vegan friends (there are about two) to come and visit, so bring it on. It just goes to show — once again — that Mexico City truly can satisfy any gusto, even if it's a complicated one.