I find that as much as I love this city, its noise and chaos can get overwhelming. While working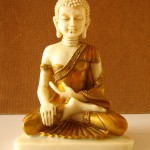 on my upcoming guide to the Roma I have stumbled across some incredibly quiet places, tucked down passageways and off side streets, where it's easy to work, get your bearings or simply sit in silence for awhile … a rare opportunity in this 28 million + city. Here are my top choices for peace and quiet.
Centro de Meditación Kadampa de México, Jalapa 113, Tues to Sun 9:30 a 8:30pm
On the second floor of this education and meditation center is the World Peace cafe and shop. Smooth wooden floors, minimalistic decoration and an overall zen-like vibe greet you at the door. It's a great place to work (or meditate) quietly. The cafe and shop are open when classes are not in session (they are located above the meditation room and therefore create noise downstairs), so check the scheduled classes there. Other than that it's open from 9am to 9pm every day.
Casa Del Poeta, Álvaro Obregón 73 , Tues to Fri 10 to 6pm
On the top floor of the Casa del Poeta, former home of Poet Ramón López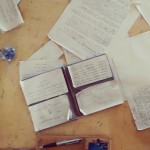 Velarde, between the Salvador Novo and Efraín Huerta libraries is a sunny workspace with long wooden tables and chairs. It's quiet and almost always empty (unless there is a school group visiting the musuem). It's a great place to get some work done undisturbed or meander through the literary collections of these three great Mexican poets.
Parroquia de la Sagrada Familia, Puebla 144
This church has long been important to the neighborhood, as its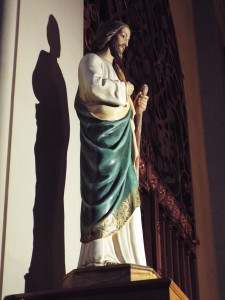 first Catholic house of worship, the church home of counter-revolutionary Padre Pro and an example of the eclectic architectural style popular around the beginning of the twentieth century. Inside are some stunning Art Nouveau stain-glassed windows as well as Gonzalo Carrasco's paintings of the Sacred Family. The doors are always open for a quick breather and moment of meditation, whomever you believe in.
Goethe Institut, Tonalá 43, Everyday, 8 to 8pm, Library – Tues to Fri 9 to 11am, 4 to 7pm, Sat 10:30 to 2pm, Sun 12 to 2pm
If the city's chaos (and disorder) gets you down, there is nothing like some German organization to pick you back up again. Besides the tidy peace of the German-language library and small indoor/outdoor cafe, you can also take a German class, see a documentary film or enjoy a concert by Berlin's philharmonic orchestra.
Patio Aurora, Alvaro Obregón 126, Tue 1-6pm, Wed – Sat 1- 2:30am, Sun 1-6pm
While I can't guarantee complete silence, the Patio Aurora is a nice place to have a quiet lunch and an intimate conversation. Tucked off the street down a narrow walkway, the restaurant's outdoor tables are almost always near empty in the afternoon hours. With the sun streaming in and the murmur of the kitchen in the background you will be surprised at how distant you feel from the bustle of the city.
Herder Bookstore, Tehuatepec 50,  Mon to Fri 9 to 6pm, First Saturday of every month
I want to live in Herder. Or at least fill my living room with its Scandinavian- style bookcases, overflowing with titles, stare out big picture windows and have someone serve me a coffee and then leave me to my thoughts. In addition to their good selection of Spanish-language titles is the German-language section, which fills up about half the store (there are no English books here). You will most likely find yourself alone in the shop, perfect for curling up in an armchair and reading a good story.
Aviario de Polanco, Tues to Sun 10 to 4pm
I have to mention the aviary, even though it's not in the Roma, because I stumbled upon it a few months ago and was taken aback by the loveliness and songbird soundtrack. Dozens of colorful birds fly inside what is essentially a human-size cage on one side of Polanco's Abraham Lincoln park. Visitors walk on the inside boardwalk trying not t0 break the spell of wings and chirps, instead pointing and whispering to each other about the feathered creatures they spot in the limbs of the trees.