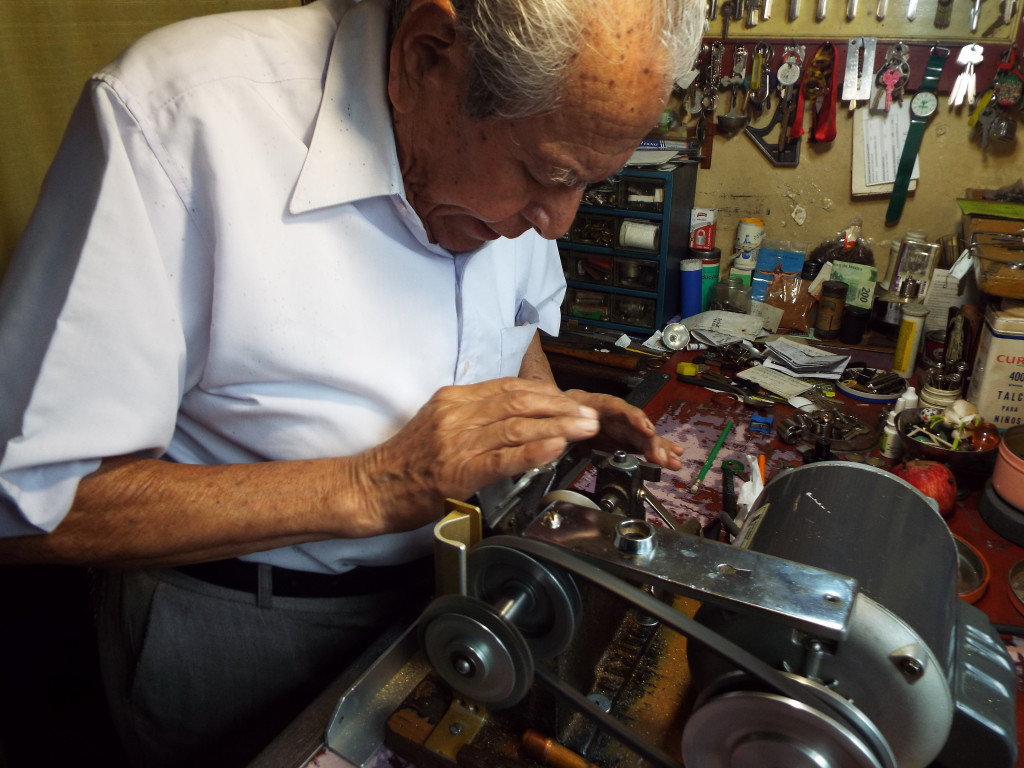 When Sr. Ruiz married his wife in 1948 she was only 16. They couldn't find anyone to perform the service because of her age. People said it wouldn't last, that they weren't ready, that they were too young. They ended up being married by a justice of the peace in a small, crowded office located in what is now the Parque Delta mall parking.
That was 67 years ago.
"Married 67 years, that's a lot to put up with don't you think?" He asks.
"For her," I answer and his responding laugh is drown out by the passing semi trucks that barrel down Baja California avenue.
I am standing outside his key shop with another neighbor, bent over trying to catch the words of this 91-year-old locksmith. His voice is low and throaty and when he wants to say something he considers scandalous he lowers it even more. We strain to catch it all but he never notices.
"I don't know why you want to talk to me," Sr. Ruiz says, "they already wrote a book three years ago, it's all in there." He's talking about Edgar Tavares Lopez's book Colonia Roma. Turns out that Lopez interviewed him for that book and then came back a few years later to hear more of his story. He's quite the long-term Roma resident star, having had his shop in the Roma since he arrived in Mexico City in 1945.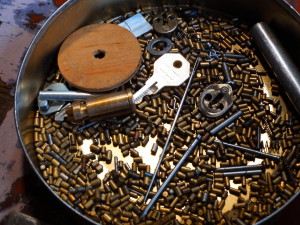 When Sr. Ruiz came to apprentice at a plumbing shop on Medellin street, the street's famous market didn't even exist yet. He remembers a fish shop beside where he worked, which I was sure was the same family that has the Miramar Pescadería inside the market, as their son José told me they used to own a shop across the street until the market opened and they moved in there. When I asked José's father about it later, he told me that Sr. Ruiz taught him how to drive up near Toluca, where they used to go trout fishing. But they are two old men, and I'm not sure who's memory is correct, according to Sr. Ruiz he doesn't even know how to drive himself.
On Medellín there was also a shoe repair shop, a barbershop run by a kid about Sr. Ruiz's own age at the time, and a billiards bar upstairs that became the workers' hangout in the afternoon.
When Holiday on Ice came to the Estadio Nacional, located where the lanzador statue and the government offices next to the Lopez Velarde park are now, it was the first ice skating show Mexico City had ever seen. Sr Ruiz built the tubing underneath the rink.
According to him, that was back when a lady was a lady.
"The women, they used to wear their skirts to here (he points to just below the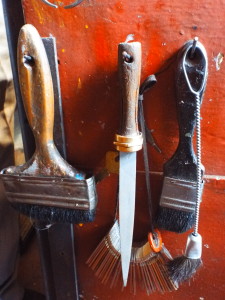 knee) and their stockings were perfect. Not like now where you see them on the metro with their skirts up to here and their pants all ripped up.
We used to go the movies or to the Estadio Nacional or to the circus and 12 hours later they looked just as perfect as they looked at the beginning of the day, after getting up and down and even riding the metro….perfect."
The stadium, he tells me was also used as an office in the Bracero program, a deal struck between presidents Roosevelt and Camacho to send Mexican workers to the United States to stave off the WWII labor shortage. Sr. Ruiz's uncle went there to get his papers before he left to work across the border.
Above his workshop door, in a small space between the frame and the doorjamb are several tiny jars with white crystals, a scattering of salt and a few cloves. Beside them, a few pieces of slowly drying garlic. He has more than one kind of protection against mal intent.
"I walk around with my hand like this (he shoves half his hand in the side of his waistband) like I am in pain, but really I'm holding on to my pistol, I have it right here…" he points inside.
"So you think the neighborhood is very dangerous?"
"The whole city," he replies, eyes raised, like I'm a naive moron.
I opened my mouth to contest but he and Jaime have already moved on to reminiscing about the inauguration of the Plaza de Mexico in Colonia Noche Buena, just a short distance from Colonia Roma — the biggest bullfighting ring in the world.
"I remember it was a Tuesday, February 5th, 1946, on the bill were Luis Castro Soldado and Manuel Rodriguez, Manuel Rodriguez won it with the second bull."
The two men bond over sports; Sr. Ruiz remembers the stats of every Mexican baseball player in existence. Jaime comes by the shop to discuss the most recent game, as he's has been covering Mexican baseball in local newspapers for over forty years. Sr. Ruiz and his wife used to go to all the games… until his wife was hit in the face with a foul ball. She now, rightfully, refuses to go, so he settles for watching the games on TV.
For 91 the man has the energy of someone half his age. He opens his shop every day and sits in its tiny entryway waiting for customers, chatting with the neighbors that pass. But this is an era that he has his complaints about – how young people no longer want to learn traditional trades, but simply type away at their machines and how the days of musical trios is long gone.
"Back when you could get a girl to fall in love with you by serenading her," he tells me wistfully. Back when the tram rode up and down Baja and our colonia was just a little sleepier, its elegant architecture still with the half shine of a not-so-distant past. Before we leave I promise I'll be back with some keys I need made, and that then we can talk some more. But he just waves me off and walks inside, mumbling that he has nothing to say.