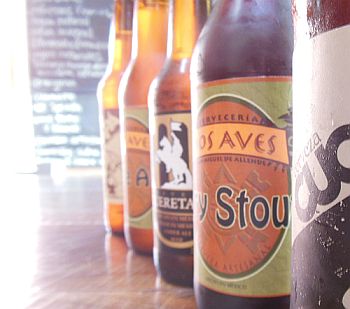 Every time I'm asked for a topic-specific list of suggestions for visitors coming into town I get inspired to write up a post. I figure if someone is asking, someone else is thinking about it.
So when I was recently asked about finding local beer on tap in the city I started writing a mental list.
Beer making has had a long history in Mexico and hit a serious boom during the prohibition years in the United States. In the late 1920s, when the beer industry here started to consolidate, Cervecería Modelo (or Grupo Modelo) and Cervecería Cuauhtémoc-Moctezuma became the only two games in town as they bought up smaller producers, holding on to an almost complete monopoly until the last 15 or so years. Since then the craft beer movement has been slowly gaining ground and market share. While craft beer's commercial presence is no where near as strong as the big guys or craft beer producers in the US, it's no longer difficult to find an intensely hoppy Mexican IPA or a creamy Mexican stout.
Here are a few places I've found that I think all you beer drinkers out there will like.
La Crisanta (Av. de La República 51, Cuauhtémoc) wins my vote as the best place to get craft beer (so far) in the city.  They are the only brewery making beer in the Centro Histórico, of which they produce 8 different types of ales. They have an additional 29 beers on their menu, about half of which are Mexican and half are from around the world. I find the staff to be friendly and knowledgeable about their list, and happy to explain the nuances of each type of beer they offer. They'll even set up tours of their production area with some advance warning. The only issue I have is that the brewery itself has a limited production, so there are times when you go and they don't have any more of the La Cristana brand beers. If you are lucky enough to stop by when they have some, I am partial to their red ale, Por No Estar and the their brown, 78.
The tiny El Trappist (Álvaro Obregón 298, Condesa) is packed to the gills on the weekends. The servers are happy to help you select from their over 300 brands of bottled Mexican beer on rotation throughout the year. The bar offers two seasonal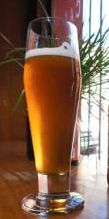 beers of their own, a summer blend, usually an IPA or triple Ale, and one around Christmas time (it'll be here in a week!) that is normally a stout or porter (for all that chilly Mexico City weather). They also have around 150 imported beers and always a Mexican brand on their one solitary tap.
Escollo (Calle Querétaro 182, Roma Norte) is one of my new favorites, they have all eight of their beers on tap, including a couple IPAs, a blond, a stout, and a porter. They have another 15 craft beer brands in bottles, all of them Mexican, and 120 mezcal brands. Their staff is enthusiastic about everything they sell and will talk your ear off about both mezcal and beer and their production in Mexico. The food is even good — Mexican favorites like tacos, tortas, and sopes, and some interesting twists like tuna carnitas and strawberry-tilapia ceviche.
Despite the fact that the majority of Mexican brands they carry are big-name craft beer producers (and that it's a chain) El Deposito World Beer Store (Various Locations throughout the city) still has quite a variety. The Roma location has 10 different beers on tap at a time, a mix of national and international brands. They currently carry 39 brands (of all different styles), 30 international and 9 national.
One of my favorite local joints is a billard bar called Lucille. On tap is beer from the Cosaco brewery, another of one of our few local beer makers. Cosaco only sells by the keg, so if you want to try their beer you'll need to check out Lucille (Orizaba 99, Roma Norte), Toscano Cafe (Orizaba 42 Roma Norte), or one of the many restaurants around town where they offer it.  You can get a rojo (red), porter, or güera (blonde).  Lucille also has Tempus and Minerva craft beer on the menu, two of Mexico's  mainstream craft breweries.
I will admit to being disappointed by Fiebre de Malta (Rio Lerma 156, Cuauhtémoc) in the Centro Histórico, I felt like the beer was a little meh and the staff laissez faire about working there. I only add it here because it has a set of fans that I don't want to ignore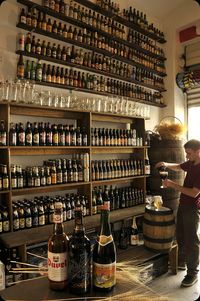 AND they have 24 beers on tap at any given moment, the most of any other bar I mentioned, 18 national brands and 6 imported brands. If you want to get a wide range of tastes they offer a sampler platter of 8-10 beers for around 150p.
Lastly, if you're happy to just buy beers and take them home to enjoy in your own personal bar, I recommend La Belga (corner of Querétaro and Orizaba, Roma Norte), a tucked away beer shop in the Roma with 300 brands, 40% Mexican, 60% international.
If you think I'm missing something good on this list, let me know so I can go "research"—it's a tough job, but somebody's got to do it.
Want to take a Mexico City craft beer tour?
We will spend an afternoon wandering two of Mexico City's hippest neighborhoods — Condesa and Roma — trying what is local and on tap and getting to know this part of the city and its history. I will take you to 3-4 of my favorite dives, bars, and tasting rooms, as well as make a few spots for delicious food along the way. Click here for more details about the Mexico City Streets Craft Beer tour in Mexico City.