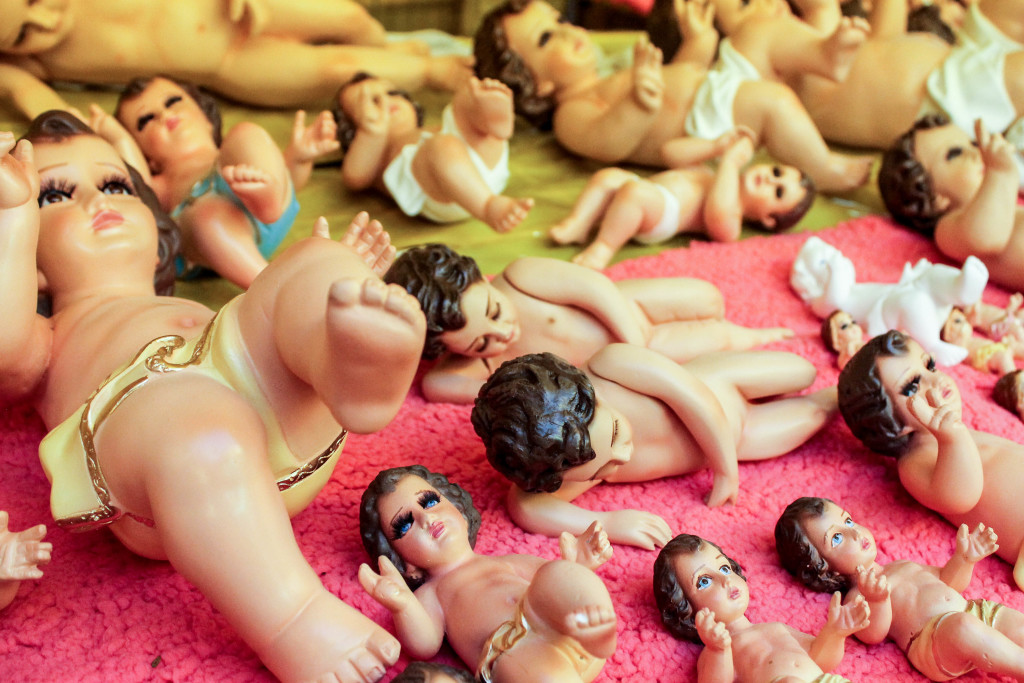 Two years ago I got hooked on Candelaria. It started with a trip to Talavera street in the Merced where my friend Arturo educated me about the tradition of the baby Jesus and the year's most popular "outfit."
"Some years it's been soccer player baby Jesus or immigrant baby Jesus, You never know what will be all the rage," he said as we passed store after store of Jesus dolls.

You can't truly understand this holiday until you walk Talavera — an entire street dedicated to baby Jesus figurines and the various accouterments that accompany them during the Candelaria holiday in Mexico.
It's a holiday born of many other holidays and like everything here, touched by a particular Mexican blend of popular culture and deep Catholic devotion.
Candelaria, or Candlemas in English, is most often celebrated with a blessing of candles and a celebration of light.
In the Christian tradition it represents the baby Jesus' baptism, 40 days after his birth. According to Hebrew law this was the time required for a male child to rid himself of original sin and be pure enough to receive his soul (girls take a little longer – 60 days). It was also the length of time needed for the Virgin Mary to be purified after giving birth. On this day, Mary took her newborn son to be presented in the temple for the first time.  It is said that when a man named Simeon beheld the Christ child in the temple, he declared him to be the light of the world.

An alternative version of the holiday is the Midwinter Festival or the Festival of Lights, a pagan celebration of the halfway point between the dark of winter and promise of Spring's warmth, where lit candles are used to welcome the beginning of the agricultural year and chase away the dark death of winter.
The holiday is celebrated around the world in various ways. In France, family members make crepes while holding a coin in their hand for good luck in the coming year. In Spain, towns host parades and outdoor festivals with dancing, music, and food. But Candelaria in Mexico is celebrated like no other place on earth.
Preparations for the holiday begin on December 24th. On Christmas Eve, the baby Jesus is taken out of his box, rocked, and sung to. He's then placed in the manager of the family nativity scene. On Three Kings Day, January 6th, when across Latin America children awaken to toys and presents left by the three Magi, families and friends get together to eat Rosca de Reyes, a traditional sweet bread with candied fruit on top. Baked into the rosca is a tiny baby Jesus figurine and the person who gets this figurine in their slice of cake, besides a potential broken tooth, is bestowed the honor of being the baby Jesus' padrino or godparent. It is then their responsibility to purchase the baby Jesus his brand new outfit and accessories for his February 2nd presentation at the Candelaria mass.
If the baby Jesus has suffered some wear and tear from last year's celebration, locals head to the Hospitalito del Niño Jesús (The little baby Jesus Hospital), a  repair shop in La Merced.
Baby Jesus First Aid
Karina and Miguel Angel have had the hospitalito for 11 years and they pride themselves on being one of the only workshops in the neighborhood open 365 days of the year.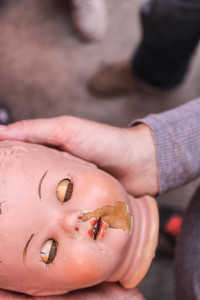 "We work all through the night during this season, resting for a few hours each morning," Karina tells us, "in a couple days we are going to have to start turning people away, or we will never finish all the niños by Candelaria."
She reminds us that these dolls are family heirlooms, whose sentimental value makes them worth repairing instead of replacing.
Their workshop is a simple set up of tables under an awning in one of the Merced's crumbling vecindades.  Tucked into one corner of the courtyard is their baby Jesus clothing shop where you can buy hand-knit caps and pajama sets. They bring out some of the worse cases to show us — a badly burned baby Jesus rescued from a fire, one with a spiderweb of cracks across its belly, and an antique baby Jesus head, whose eyes roll back as you rock it up and down.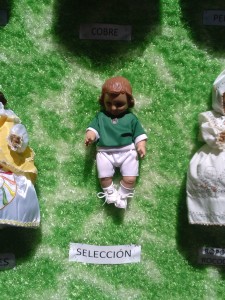 Just outside their door Talavera street is overrun by the Candelaria outdoor market bursting with every kind of imaginable outfit and accessory that you could want for a small, porcelain baby Jesus. There's the strictly religious Niño del Sagrado Corazón (Sacred Heart Jesus) and the Santo Niño de Atocha with his staff and drinking gourd. Alongside them are the slightly more secular Niño de Suerte with his golden coins and glimmering skeleton skull and Aztec baby Jesus dressed in a flashy indigenous traje. Last but not least are the hugely popular baby Jesus MDs and baby Jesus selección oficial (for all you non-soccer buffs out there, he looks like the photo to the left) . You can dress your baby Jesus as your favorite saint or your favorite soccer player but Karina from the hospitalito says that local priests are cracking down and will now refuse to bless the babies unless they dressed properly.
"You have to dress the niño Jesús as a child, because he is a child." says Karina,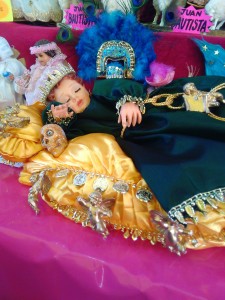 "And dressing him as a saint is like having the boss sweep the floor."
On the big day, February 2nd, families will bring their niño to a Candelaria mass and have it blessed for the coming year. They often bring along beeswax candles to be blessed as well. Mass is followed by a celebration with tamales and atole, also provided by the baby Jesus' godfather or godmother.
The Merced's Candelaria market reaches a fever pitch a few days before February 2nd when residents can be seen gingerly carrying their baby Jesus to the market and selecting just the right clothing to ring in the new year. It's not something you can afford to miss.
If your interest is piqued and you want to dig deeper,  Eat Mexico is running tours from now until the 2nd of February. You will eat and drink your way through the holiday preparations and learn more than you ever thought possible about this very special Mexican holiday.