For those of you that read my previous post on Eating Vegan in Mexico City, my brain is now trained to look for vegan food, whether I am eating it or not. I have found quite a few more places I like since the last post. Here's a list. Keep checking back for periodical updates.
The restaurant Volver (Chihuahua 93, Roma Norte) in the Roma has quite a few vegan options, things even meat eaters like myself can get excited about: Fried plantain burgers with caramelized onions and tofu, Portobello mushroom burgers with vegan requesón (a kind of soft Mexican cheese), or a lentil burger with burnt onion and classic ketchup. They also have vegan waffles with your choice of salty or sweet on top.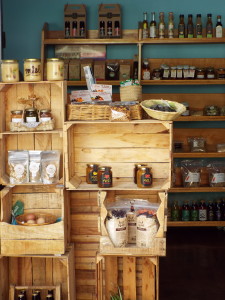 In the freezer of La Nave Cosas Ricas (corner of Teocelo and Tehuantepec, Roma Sur) you can find soy sausages, amaranth milanesa, soy al pastor, almond paste chorizo, quinoa milanesa, and bean "meatballs."  My personal favorite is the falafel. In addition they sell vegan cookies, lots of jams and jellies, organic soap and more.
Vegan Ville del Valle (Providencia 201 Local A y B,
Col. Del Valle) has vegan versions of traditional Mexican sweetbreads like conchas and traditional sugar cookies, polvoridos as well as incredibly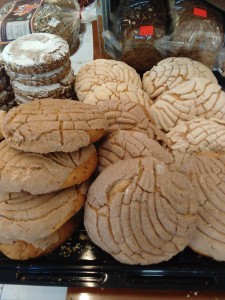 lactose-tasting yogurt made with cashew milk, coconut, and probiotics. They stock vegan powdered sugar (I always thought sugar was naturally vegan?), natural supplements, organic cleaning products, amaranth chicharron and vegan MARSHMALLOWS!
The new gastronomic plaza that used to house the Universidad de Londres on the corner of Guanajuato and Orizaba is home to Vegan diner Vegan Planet (Casa Quimera, Orizaba 139, Roma Norte). Their "breakfast" menu is a bit of a joke, offering organic muesli and oatmeal as vegan options. But I love the burritos and juices packed with superfoods. There is also a bakery next store selling vegan breads and sweets.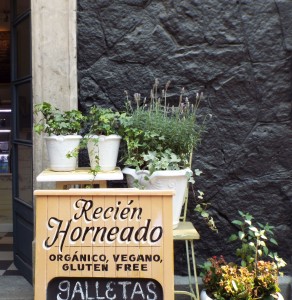 Vegani (Manzanillo 22B, Roma Norte) sits right in front of the Vegana Por Siempre taco stand on Manzinillo (see my previous post). They are open for lunch offering soy cochinita or poblano burritos (poblano peppers, corn, and mushroom), rice bowls, an elaborate list of salad fixings, and tiramisu. The fries with chile and salt are particularly nice.
For cooking at home, the Amsterdam Market (Av Ozuluama 14, Condesa) has a couple kinds of vegan cheeses, one made with almond and the other with cashew along with other vegan-friendly processed foods which are all but impossible to find in regular grocery stores. They, along with their sister store, Origenes Organicos, are close to the only game in town selling gluten-free, soy-free, corn-free and any other kind of free you need.
More to come, stay tuned…