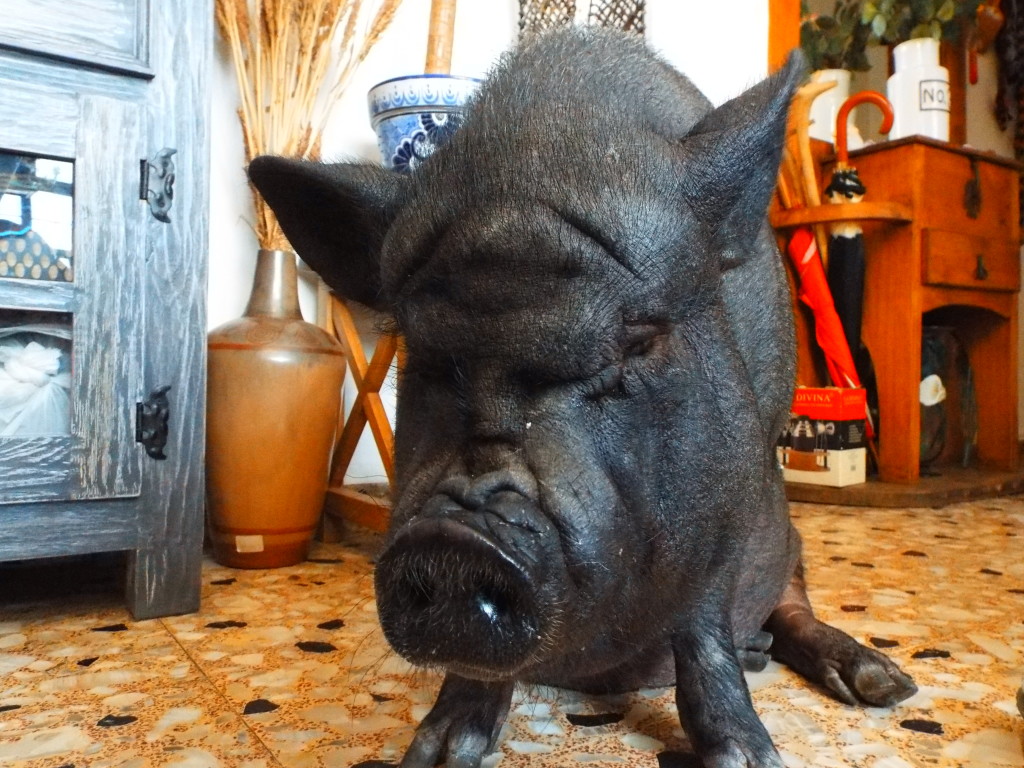 "Is that a pig?" That is the question that Ángel hears the most often when he takes his 2 1/2-year-old, black as night Vietnamese pot-belly pig "La Chata" out for a walk in La Roma.
He also gets "Is that a manatee?" (No, señora, manatees live in the ocean) "Is that a schnauzer?" (No. Oh, I thought it was a schnauzer because pigs aren't black like that.) "Does she have eyes?" (Yes. Oh I thought she was a blind pig and you had trained her to follow you around) and "Is this one of those mini pigs?" (No, señora, if she were a mini pig she would be small).
"Someone asked me once if pigs could dream," he says shaking his head with a laugh. "I told them to google it."
But if you are the owner of a pig in one of the most massive urban landscapes in the world you are prepared for a few questions. Most importantly might be: how exactly do you end up with a 154-pound pig in an two-bedroom apartment in La Roma?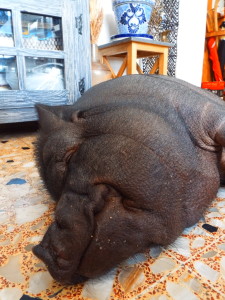 "My girlfriend and I were randomly talking one day and I was telling her that I heard about this Sheikh raising pigs as pets. She was like 'Really? Don't tell me you'd like a pig for a pet?' 'It would be cool, wouldn't it?' I said. Mistake.
On my next birthday I came home really late from work … when I arrived there was a dog crate in my living room … I looked inside and didn't see anything and so I started whistling and calling [for the puppy] and nothing. Then the door of the crate moved and when I went to close it, from inside the sheets came out La Chata, oink, oink, oink, and I was like 'whhhhhhhhaaaa?????!!!!!' I've never been so afraid in all my life. It was horrible, I didn't know if it was a bat or a rat or what. It looked like a pig, but I didn't know that pigs could be black… I called my girlfriend and told her I didn't want it, that she had to take it back."
But Ángel's girlfriend refused, saying that she had been on a waiting list for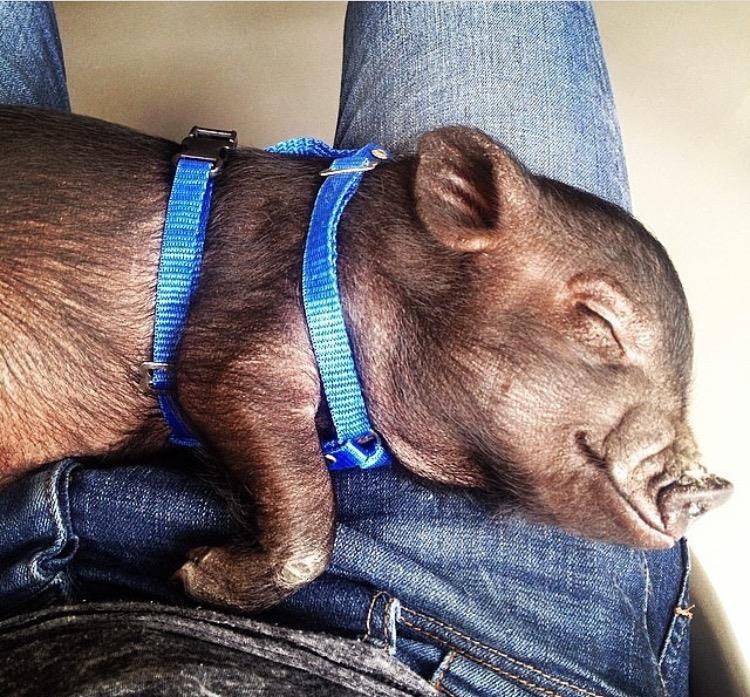 weeks to get him this "mini" pig — the guy who sold it to her told her it would grow to be about 11 inches. She told him to give it a chance, suggested he feed it, but he couldn't work up the nerve. She had to come over and feed the pig herself that first day as Ángel sat across the room, petrified. When the tiny Chata was finished eating, she suddenly turned towards him, oinked her way over to the other side of the room, climbed up onto his lap and promptly fell asleep. That, he says, was it. No going back.
That tiny piglet that used to be smaller than Ángel's shoe started to grow on him — literally. She was 50 pounds, then 100, then too big to turn around on the balcony and Angel had to create an exit door for her through a pane of glass on the other end. She now weighs in at about 154 pounds, and Ángel has no idea if she will get bigger.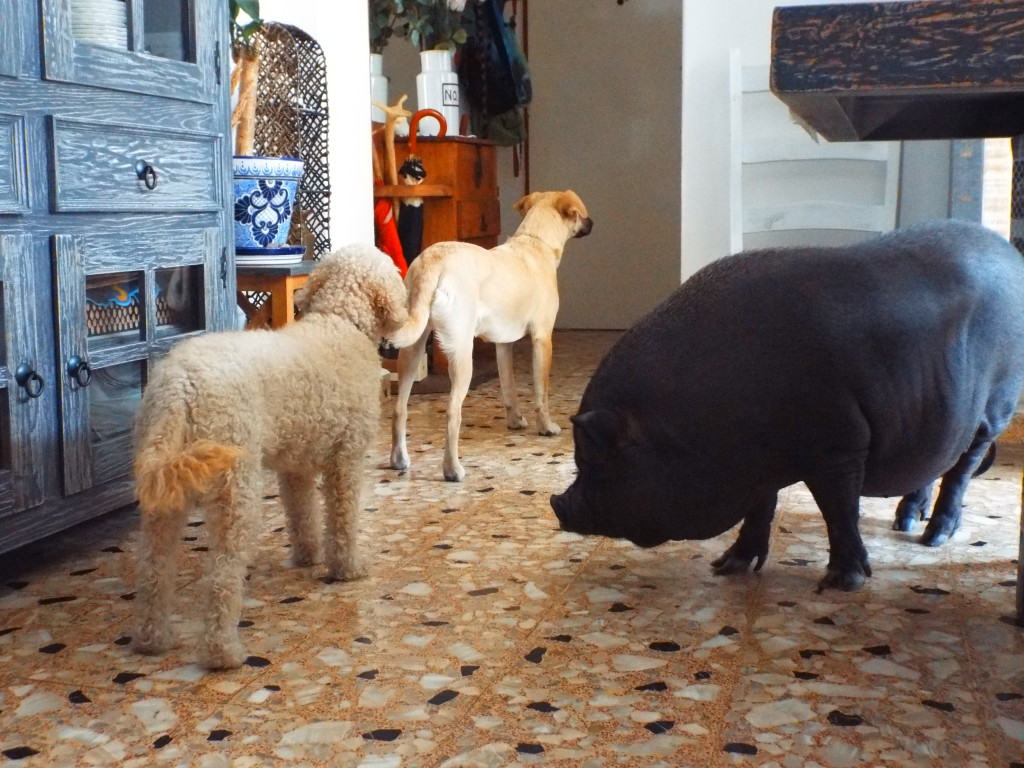 As it turns out, lots of so-called "dwarf" and "mini" pigs grow to upwards of several hundred pounds, any pig can be put into the dwarf category if it's smaller than an average pig — which grow to 300-700 pounds. What will he do if she keeps growing? Adjust. There is no adopting her out to a family, no dropping her off at a farm. There was a time when he considered those options, but he couldn't go through with it. La Chata is a city pig now, as weird as that sounds, and as he was told by Dr. Adal Velásquez, the pig specialist he saw, there are lots of myths about pigs that simply aren't true: the first being that they have to be on a farm in order to be happy.
Pigs are extremely smart and adaptable, they are also extremely clean. The only reason that pigs wallow in mud or manure is because they don't sweat and they're trying to cool down the best they can. La Chata is even potty-trained, she does her business on a couple of fake green grass mats on the balcony of her room. She sleeps in her own room, complete with giant dog bed that she has ripped open in the middle because she likes to root around in it and bury herself in the stuffing. And she won't go to sleep until Ángel covers her with her blanket.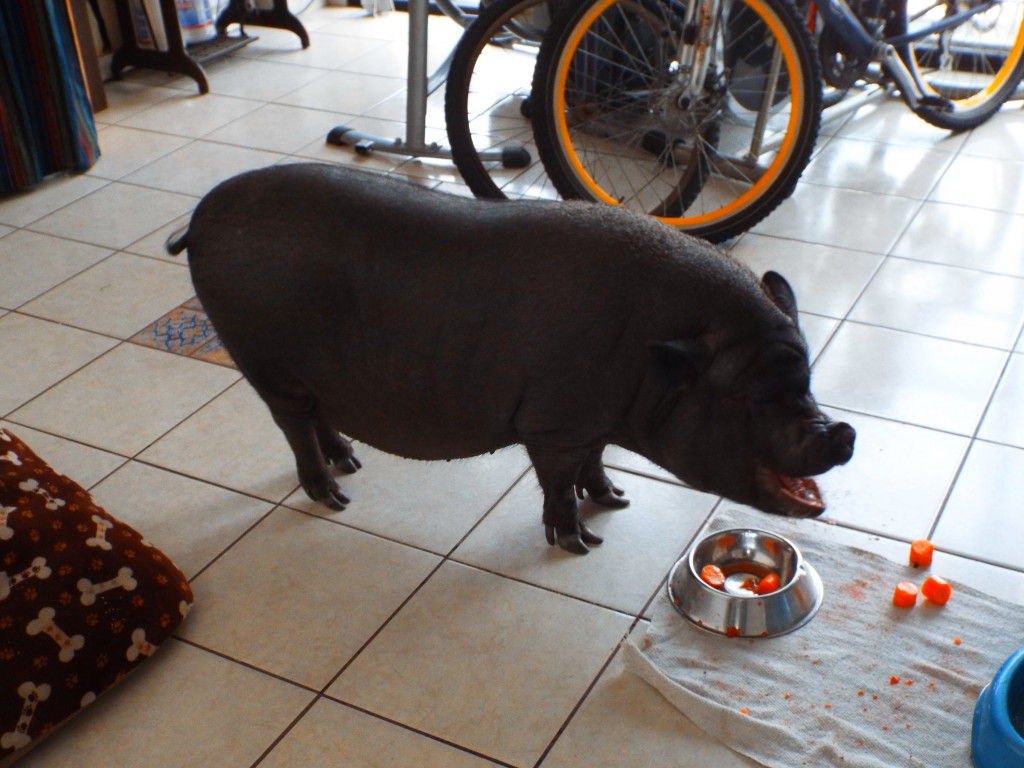 La Chata has taken on a star-studded persona in Mexico City's La Roma. She's pretty hard to miss as she walks around Rio de Jainero park, but she also has over 13,000 followers on Instagram and 15,000 Facebook friends. She shows up for local charities, strutting her stuff, scouring the ground for food scraps. She has taken on several important causes, including creating awareness about kids with cancer and visiting kids in orphanages.
"I want La Chata to really mean something, not just be a story about a guy and his girlfriend that got tricked into buying what they thought was a mini pig. That's why we've started to focus on causes that we can help with."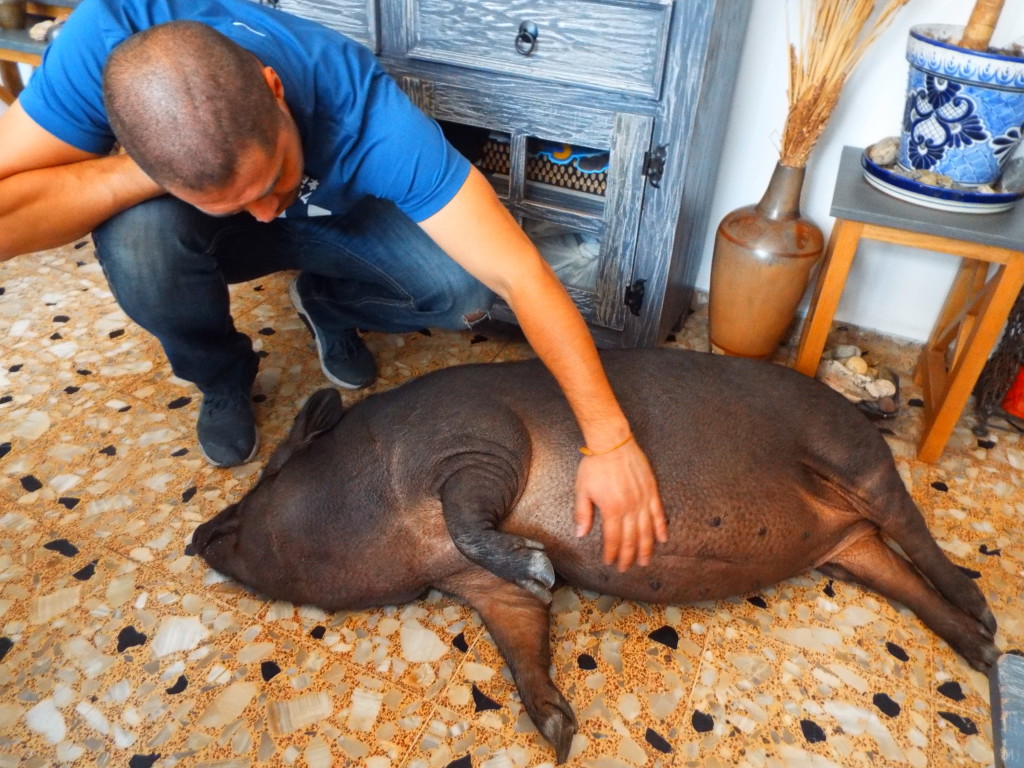 As pig tales go, this one has a happy ending, a pig owner who has made adjustments to his life in order to accommodate his beautiful (and suprisingly large) beast, but there are those that don't end so well.
When we started talking about factory farms I had the instinct to cover La Chata's ears. Angel has stopped eating pork altogether because of this experience, but he's not an adamant vegetarian. His real issue he says, is the way that commercially-raised animals are treated so inhumanely, how their lives are so stressful and horrible. He imagines his own La Chata, with her secret shared language of grunts and snorts, and her smile when you rub her belly and the idea that any animal is too stupid to feel pain, anxiety or stress is preposterous (she wags her tail for godsake!). Having met this pig, no one can deny that she has quite the personality.
Whether she convinces us all to become vegetarians or not, we should all be glad she's keeping it real in La Roma, reminding us that everyone deserves a chance — even pigs — and that life is full of unexpected surprises.
Find La Chata on instagram @lachatapig and facebook La Chata Pig