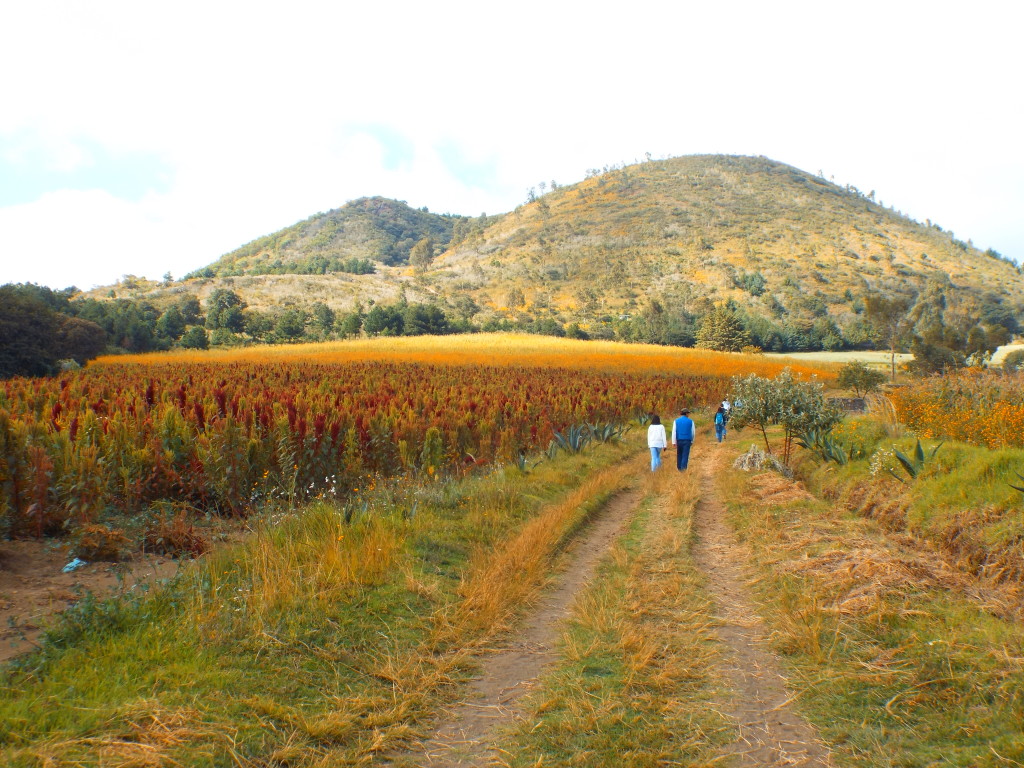 Just beyond the gate a woman stands in a fake-fur lined leather jacket. She shivers slightly in the cool morning air. Our guide Erick gets out to talk to her, hoping to the find the watchman he is looking for. Over her shoulder I can see the haze of the city far off in the distance, and directly behind where she stands miles of corn fields stretch across the Milpa Alta.
It's hard to believe that we are still in the city. Our van bumps along a country road lined with masses of tiny yellow flowers our guide calls clemomillo interspersed with magenta shoots of amaranth. Ahead of us rises the Teuhtli volcano, a small, inactive volcano that we are going to be hiking today on a outing led by Aztec Explorers and Erick Molotla, their guide for the morning. Erick is a local guy from Tlahuac, and a necessary presence as he knows the ejidatarios (communal farmers) that own this access road to the volcano. Their ejido — a form of communal farming land — lies deep in the southeastern part of Mexico City. Of the entire area that is considered Mexico City (the 16 boroughs), 59% is green space. The Milpa Alta borough, where we are this morning, makes up almost 19% of it.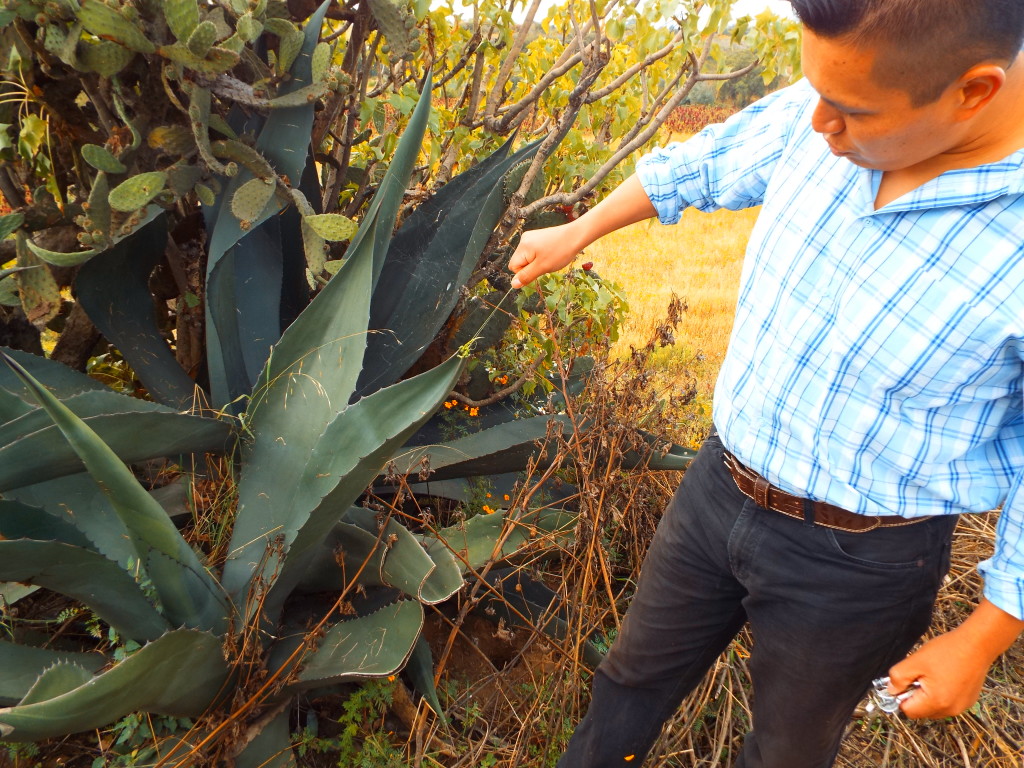 As we stop along the way to photograph the purple tinged corn stalks and the billowy pink amaranth we can see Lake Chalco, Lake Xochimilco and — Erick tells us — just beyond a ridge of smaller mountains, is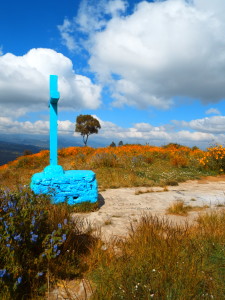 Lake Texcoco. These three lakes are the remaining bodies of water in an area that was once covered with a series of canals and floating agricultural islands – las chinampas – that fed the Aztec empire before the arrival of the Spaniards. Once the colonizers arrived, they did their best to drain the Valley of Mexico of its water as quickly as possible in order to install a system of agriculture that they were more familiar with. What we now know that they didn't then was that they were destroying one of the planet's most efficient and ingenious methods of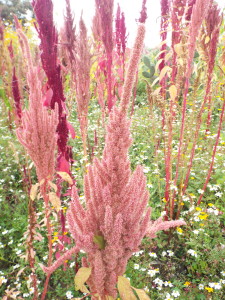 growing food.
The Teuhtli volcano is 2710 meters above sea level and with Mexico City at 2250m, you wouldn't expect to feel much of a difference in air quality heading up the vertical path to its crater. Once you pass the few meters of cemented path however, you climb almost straight up on a path made of slippery volcanic sand that takes you one step forward and half a step back with each advance. During that climb to the top, only about 30 minutes at most, you can feel the slightest thinning of the air. Once we reach the cross-bearing outlook at the top of the volcano, Valle de Mexico expands out in front of us in all its glory and we  can see the sectioned off ejido fields with rows upon rows of nopal cactus. There is only the odd building scattered here and there throughout the fields as most farmers live in the nearby towns. Behind us is the volcano's crater, wider than it is tall. Teuhtli is a Hawaiian-type volcano, categorized as such because of the slow, relatively gentle flow of lava it emitted when it was active – 4,500 years ago. We scramble down into the mouth of the volcano to get a look at its alien landing pad floor and can't help but feel very, very small indeed.
Going down the mountain is as slippery as going up and more than one hiker ends up seated on the ground. Our shoes full of volcanic gravel and our clothes covered in bits of prickly grasses we meet up with our driver and are on our way to San Pedro de Actopan for the town's annual Mole Festival.
I try to tell myself before we get there to lower my expectations for the fair's ambiance. I am imagining a rustic, rural scene, a church bell in the distance, the main plaza filled with the smell of mole being churned in a massive clay pot – but I didn't sufficiently tamper down my excitement.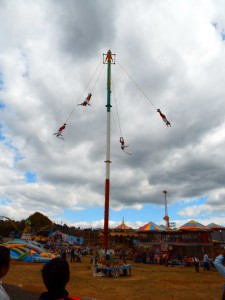 The mole festival is held on camp grounds outside of town and despite the fact that it is home to some incredible mole and mole makers, I wouldn't call it quaint or rustic. A row of mole restaurants are set up on one side of the main thoroughfare of the campgrounds and mole vendors on the other. Restaurants are divided by individual tents and decorated with traditional cooking utensils, papel picado flags, and large comals where one or two women in traditional dress are churning out tortillas. In the middle aisle you can find various other vendors selling amaranth bars, warm candied nuts and local liqueurs. There are also shoe stalls, pot vendors, people selling pulque, a rug guy, perfume sellers, bakery stands and about everything else you might imagine at a big fair. On the other side of the campgrounds are roller coasters, the papantlan flyers, carnival games and bounce houses.
We stop at Molcalli, owned by the family of Doña Olivas, who was one of the first organizers of the festival. We have a chance to chat a little and she tells me about her grandmother, one of the town's first mole makers, and how she and her seven children have carried on her tradition. She wears the embroidered ribbons of her grandmother in her long black braids, still vibrant in color almost 60 years later.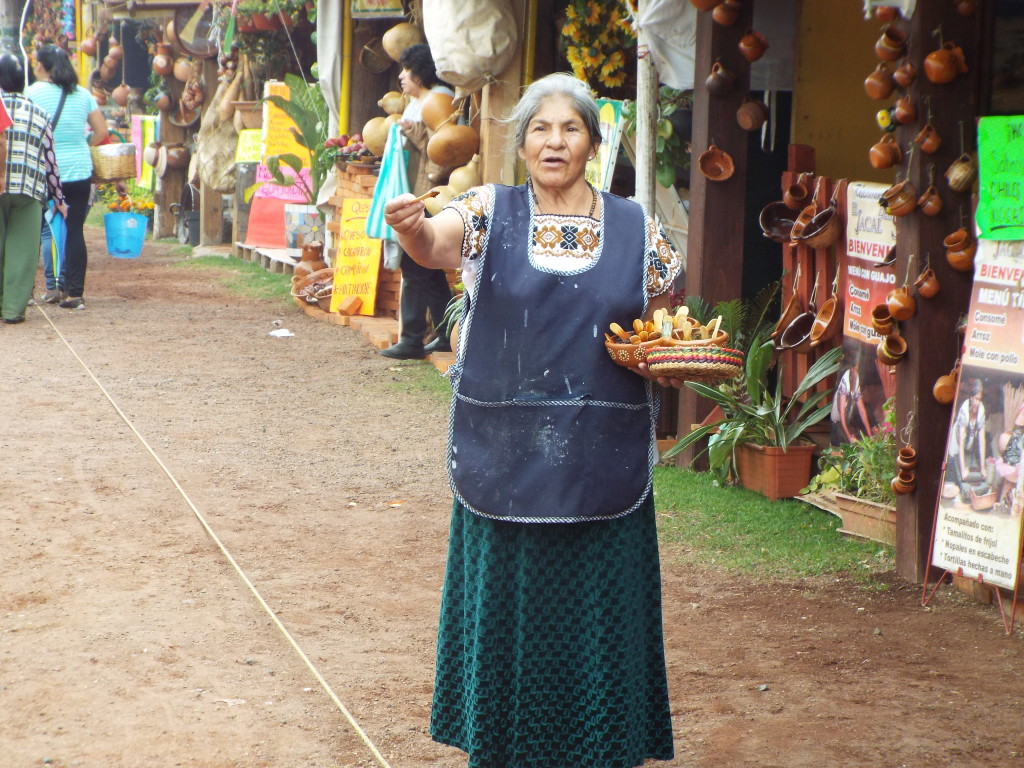 The city of San Pedro provides 60% of the mole you will find nationwide and 90% of the mole you can buy in Mexico City. Their specialty are mole almendrado (almond mole) and moles that include dried fruit – cranberries, raspberries, figs, and others. This year the hot ticket item is mole made from pistachio nuts. I have a mole almendrado whose rich nuttiness and bite of chile gives a slight burn to the back of my throat, over a leg of guajalote (wild turkey). The portion is massive and served with red and blue corn tortillas fresh off the comal. The moles produced in San Pedro with the exception of their green mole (pipian) are all sweet like Mexico's famous mole poblano. They range in heat and texture, but all (again except for the pipian) are made with a base of mulato, pasilla, ancho and chipotle chiles.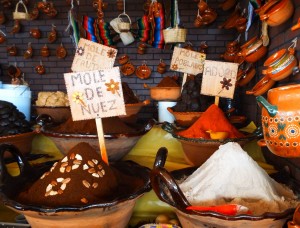 After lunch the group breaks up for "free time" and each of us wander the stalls where mole vendors offer samples at every turn. If you aren't starving when you arrive, I would suggest strolling down the mole aisle first before eating… it's impossible to fit anything else in my stomach after all that delicious almond mole and turkey. We have about an hour to wander and it's really sufficient in order to take in the whole fair. We meet up as a group and head back into the central part of the city around 4:30, arriving at about 6:30 from where we started out in the morning.
The best part of this experience was getting to know a part of the city that I might not have taken the time to go to on my own. As the Aztec Explorers trips typically attract locals (both Mexican and ex-pat) the group was a nice mix of cultures and most folks spoke at least a little bit of Spanish which I think helped make everything smoother. Lidia and Peter, the couple that own and organize the tours speak both Spanish and English.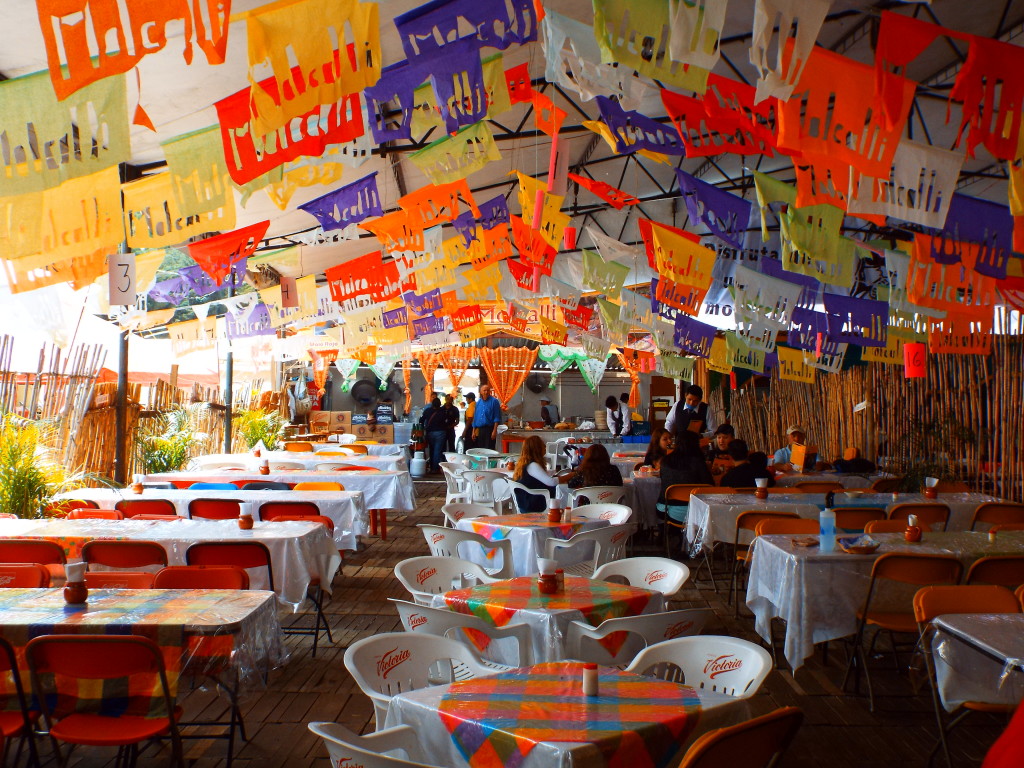 Here are a few tips about the trip I came away with:
Eat something before you go. I'm not usually an early morning eater (the tour left at 7:30am) and so I almost didn't get a tamal at the metro station where we met. I was under the assumption that we would stop along the way but we didn't and I would have been starving without it since we didn't eat until around 2 or 3 in the afternoon. (Quick update: Aztec Explorers informed me that they usually stop for a light breakfast on the way, but this was the first tour that combined both places and so things were switched up a little bit)
Wear shoes with decent tread and layers of clothing; temperature changes and changes in altitude will have you taking on and off clothing all day.
Bring a bottle of water
People who are new arrivals to Mexico City or sensitive to altitude changes proceed with caution. It's no Nevado de Toluca, but you can still feel the air thin a bit as you go up.
Aztec tours offers all kinds of meetups and trips in and around Mexico City as well as travel itineraries to other destinations. Their tour prices are very reasonable, most at around 500p for the day and include private transportation from a central location in the city. To check out what they have coming up next, go to their meetups page linked above and look at the upcoming line-up, there are lots to choose from.