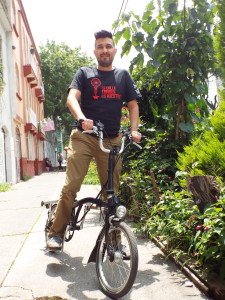 José Luis' arrow-shaped mohawk makes him appear as if he's always in motion, or just stepped off a bike racing down the highway. And he just might have.
We met working on a mobility committee for a local organization and it was immediately obvious he knew more about urban mobility and cycling than the rest of us combined. He lives right around the corner from Cardinal Cafe, one of my favorite Roma coffeeshops, and we'd often have our meetings there to dissect the mobility issues of the neighborhood over a cup of cafe cortado.
José Luis has been living in the Roma for the past three years with his Australian partner. A stint in Sydney introduced him to not only his girl, but the life of a cyclist in a major city. Living as student without a car, one day he visited a local community workshop and learned how to built his own bike. It was his first experience with urban bike activists and for the next two years he set out to discover Sydney on two wheels.
Returning to Mexico in 2011 he discovered that his interests had shifted away from the environmental engineering that he studied. He was working in an engineering firm with his father and brother and found the infrastructure projects proposed to them by the local Guadalajara officials lacking inspiration. Then one day a manual on how to create bike and pedestrian friendly cities crossed his desk. One of the collaborating organizations was GDL en bici, a local bike advocacy group.  José Luis assumed that they just organized group rides, but found out that they were working to change public policy and build a national bike network. He started his blog LaBicikleta around the same time. He started writing about cycling and mobility and decided it was time to move on from engineering.
Local Organizations
Most major Mexican cities now have a local biking organization in their midst. GDL en Bici, the first group discovered by José Luis, is one of the strongest. They are involved mainly in city activism, including promoting a new, more inclusive bike law in the city, fighting for the improvement of streets and the expansion of bike lanes and were a major force in bringing a public bike-sharing program to Guadalajara.
Bicitekas in Mexico City also works to influence mobility policy in Mexico's capital. They offer urban biking workshops on college campuses, host group rides, campaign to improve air quality in CDMX and have a workshop in the Centro Histórico where you can get help, borrow tools, even crash for the night if you are a cyclist traveling through the city.
Other groups, like Pueblo Bicicletero in Monterrey, Chihuahua en bici, Bcsicletos, Ciclos Urbanos A.C., and dozens more, work similarly on a local level, trying to improve their cities for cyclists and offering bike services and social activities.
BiciRed
These days José Luis serves as a representative of Bicitecas to the national BiciRed, a network of bike and cycling organizations all over the country. BiciRed was born out of the very first Congreso Nacional de Cyclismo Urbano (National Congress on Urban Cycling) organized by Bicitecas in Mexico City.
The annual Congreso is a platform for bike activists and enthusiasts, local officials and other urban specialists to come together and discuss mobility policy in Mexico and share experiences of what has worked in their cities and what hasn't and provide the groups a chance to network with one another.
At the first Congreso in 2008, the state and city groups decided to form a national network — BiciRed — that would consist of various permanent committees (such as Internal Development, Road Safety, Cycling and Gender, etc) made up of members from the different local groups nationwide and who would work together on national campaigns. This year, their are planning the World Bike Forum, which will be held in Mexico City on April 19-23, 2017.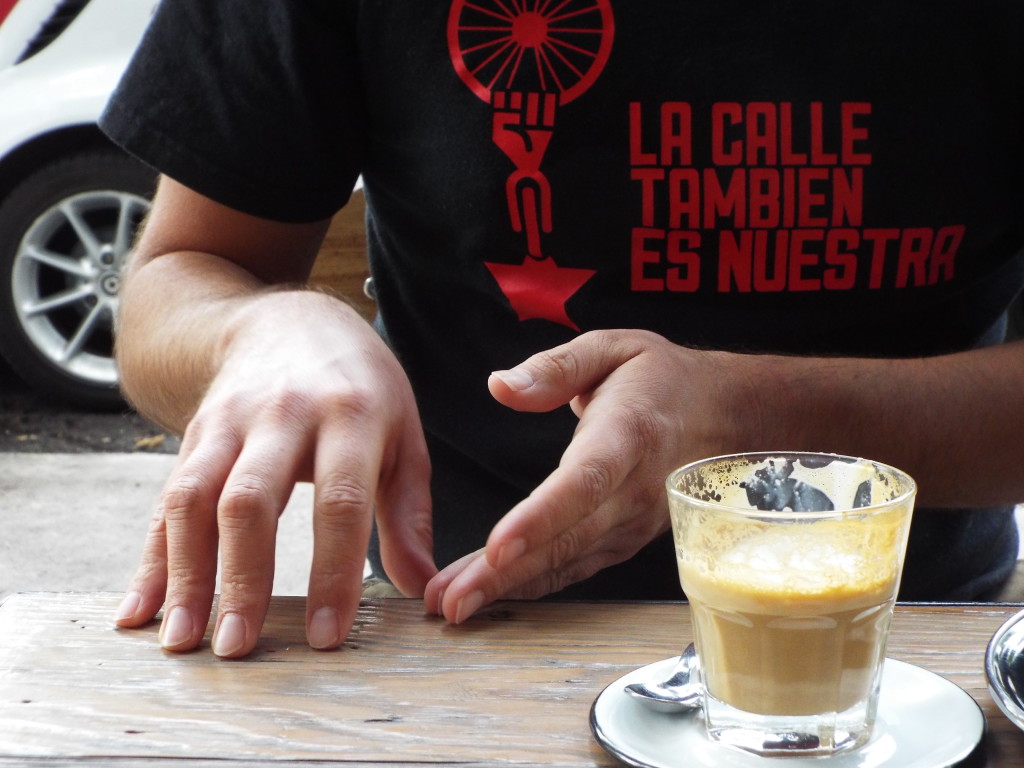 Foro Mundial de la Bicicleta (World Bike Forum)
It started with a tragedy in Porto Alegre in 2011. A driver got stuck inside a critical mass event and instead of slowing down and taking an alternative route, he instead laid on the gas and ended up killing 12 riders. A year later the forum was organized to promote more inclusive cities for cyclists. Obviously, biking, bike safety and inclusion are all main themes of the forum, but they have also focused on things like building your local organization, best practices from cities around the world and wider urban issues: planning, air quality, pedestrian safety, and general mobility policy.
Each year at the forum, groups present proposals for hosting the next one in their home countries, and the winner of the voting process and therefore the host next year's forum is charged with organizing it. Each forum ends up a little different that way, with organizers adjusting to the specific context of the place where the forum will be held. So far the World Bike Forum hasn't been as global as its organizers would like; the first two years it was held in Brazil and since then in various cities across Latin America. Their end goal is to make it as global, multilingual, and multicultural as possible.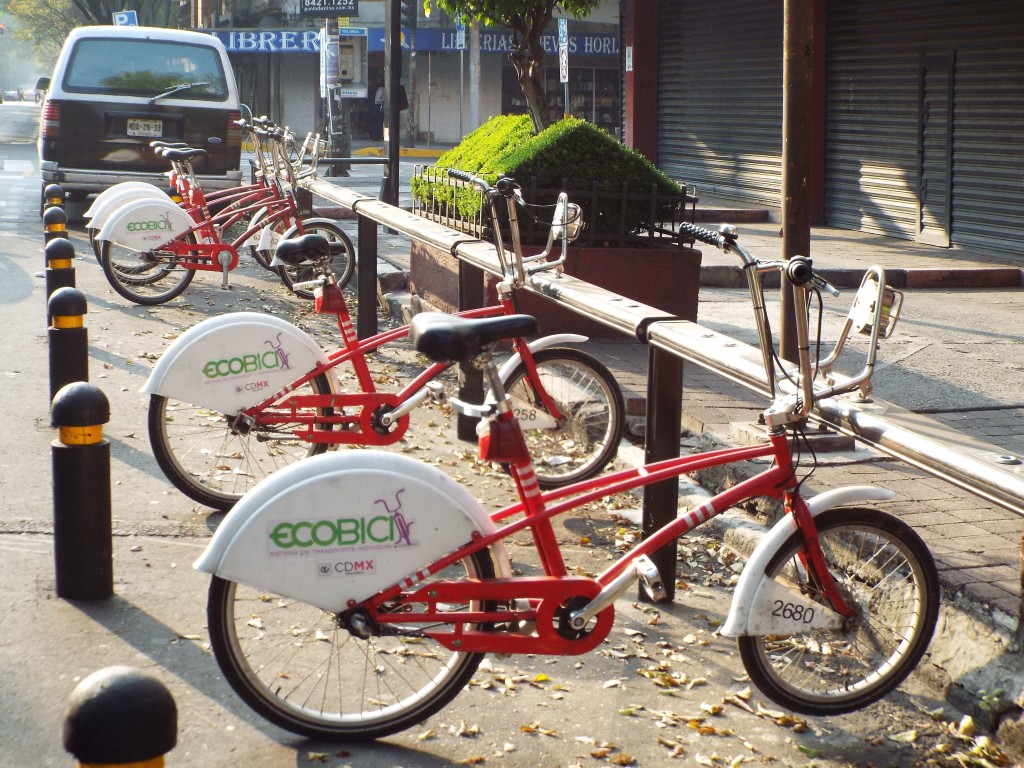 Colonia Roma and Biking in CDMX
José Luis and his girlfriend moved to Mexico City just three years ago and immediately settled in the Roma. In terms of riding, he says that the Colonia is a gem.
"Compared to Guadalajara when I lived there, [bike] riding in Mexico City is paradise," he says of cycling locally. "It has to do a lot to do with Eco-bici. Eco-bici has made biking much more visible in the areas that have it, and therefore people are much more accustomed to seeing cyclists."
Unfortunately, most city residents and almost all poor or working-class residents, do not live in Colonias with Eco-bici, bike lanes and shaded side streets.
"Colonias like the Roma and maybe even the Centro Historico are super bike-friendly, but they keep putting in bike lanes where they aren't necessary, and I see it as a lack of willingness to connect the city." says José Luis, "The guy on the bike who sharpens the knives doesn't live in the Roma. I don't know where he comes in from, but if you look at the statistics of where most people on bikes get hit, it's coming into the [central neighborhoods] from the outskirts of the city, because the bike riders on the outskirts are ignored."
So we have a ways to go before we are the poster child for bike inclusion, but CDMX is on its way. As the plans start to come together for the World Bike Forum this year, bike activists around the city are gearing up to participate. It will be a chance for Mexico City to be judged in comparison to other cities worldwide and will be an amazing opportunity to be inspired by the stories of who is getting it right.
 Want to hear more about my neighbors? Read about Sr. Ruiz and La Chata pig.