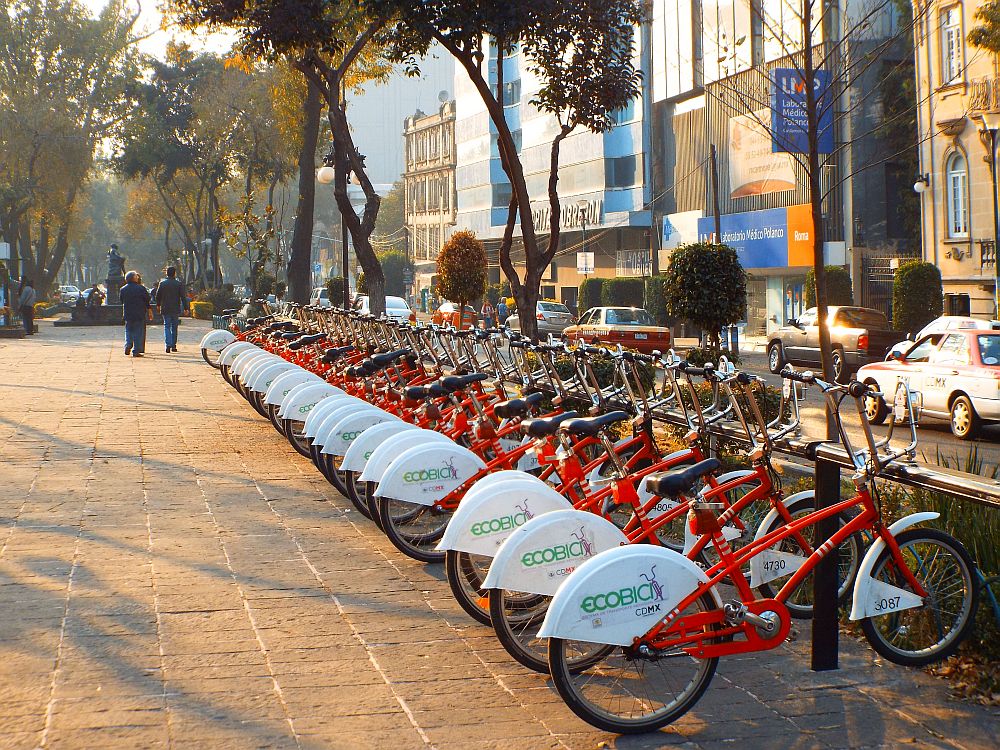 Looking to two-wheel it in the big city? There are a couple of ways you can make it happen, here's the most up-to-date information for you:
If you are a local or plan to stick around:
Mexico City's citywide bike sharing program is called Eco-bici. You will see the lines of red bikes with white wheel covers in most of the city's most transited and touristy neighborhoods — Cuauhtémoc, Tabacalera, San Miguel Chapultepec, Centro, Juárez, Roma Norte, Hipódromo Condesa, Polanco and Condesa. To sign up as a local you must bring the original and copy of an official ID (IFE, passport, FM3, FM2, or driver's license), a Mexican credit or debit card. You take all these documents to any of the eco-bici stands or customer service centers and pay the yearly fee of 400p and you can ride to your heart's content (in 45 minute increments).
If you are here for a short period of time:
Eco-bici offers short-term "plans" of 1 day, 3 days or a week that will costs you 90p, 180p, and 300p respectively. You must visit one of their permanent offices or temporary stands (they often set up in parks and on Reforma Avenue on the weekends) with an official ID (for foreigners that means passport) and a Visa or Mastercard, Mexican or foreign- issued. That card is charged with a 1,500p deposit (appx. 84usd) until the period of your plan is over.
There are two other options as well, the first is called Poráy, and has two offices, one in Mexico City's business district and one in Colonia Condesa. This company rents bikes by the hour (50p), the day or the week. They have a variety of bike types including street bikes, cruisers and tandems and in order to rent you must leave an official piece of identification. For non-nationals this means either a driver's license, a passport or an official ID from the Mexican Department of Immigration (FM3 or FM2). WIM was assured over the phone that there are staff at either office that speak English. This company also offers several bike tours that you can see descriptions of (in Spanish) on their website.
You can also rent free bikes through the company Bicigratis, which has stands throughout the city that look a little like newspaper stands with their logos on them. Most of these can be found along Reforma Avenue. The rentals are up to three hours' maximum and you must return your bike to the same station where you picked it up. If you pass your three-hour limit they will charge you a 200p fine. For non-nationals, they only accept passports as a valid form of ID. There's no website and if you call, expect a Spanish speaker.
Poráy
Address:
Reforma #24, Juarez
Veracruz #3, Interior #5, Condesa
Phone:
Reforma +52 55 5035 1810
Condesa +52 55 6394 3259
Hours:
Reforma Office, Mon to Fri 10am – 7pm, Sun 8am-4pm
Veracruz Office, Thurs to Sat 10am-7pm, Sun 8am-4pm
Bicigratis
Address: Along Reforma Avenue, 2 stands in Polanco, and 3 stands in Coyoacan
Phone: +52 55 5574 6798
Hours: Mon to Sat 10am-5:45pm (last rental at 5pm), Sun 8am-2:45pm (last rental 2pm)