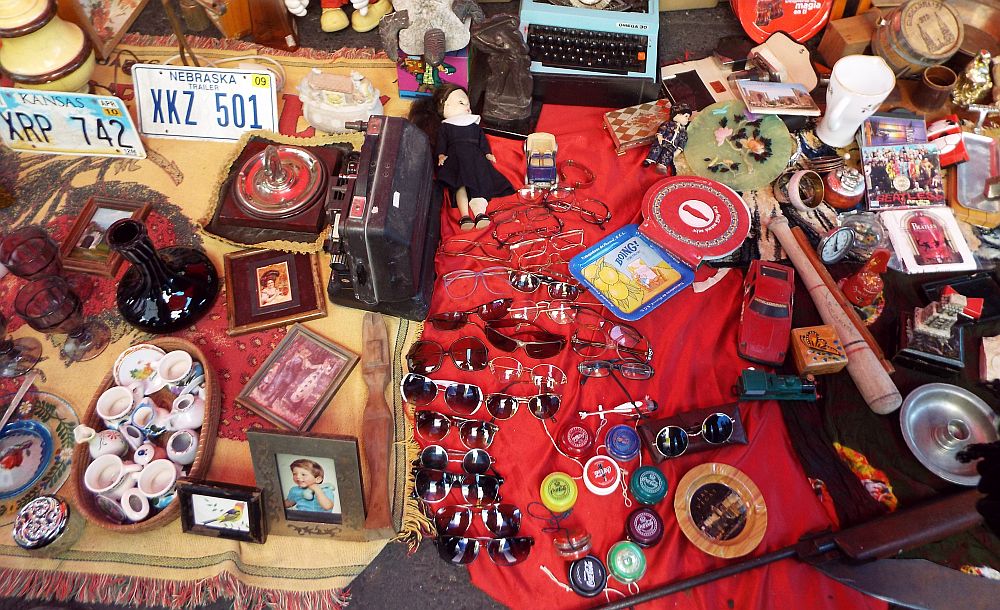 I still remember the first time I went to the La Lagunilla Sunday market. A blue-eyed, blonde-haired Australian friend and I — in other words the two whitest girls in the world — asked at the front desk of the hostel we were staying at about how to walk there. The clerk looked at us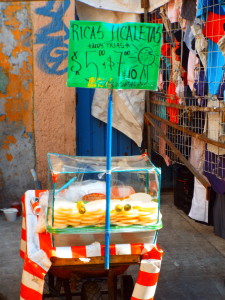 with what I can only describe as disbelief and horror.
"It's a very dangerous," he told us wide-eyed.
But we insisted, we were badass.
"Well then don't wear any jewelry or take anything expensive like a camera or cell phone. Try to blend in."
Ha! As if that was possible.
This Sunday, seven years later, I rode my bike to La Lagunilla with my cellphone and fancy camera in tow. Nobody tried to rob me this time either, even though I am still the whitest girl in the city. As it turned out all those years ago, the market is not such a scary place and if you take regular precautions like you would in any crowded, foreign place you can appreciate an uniquely Mexico City weekend experience that not everyone is brave enough to see.
The official La Lagunilla market is a set of buildings off of Comonfort Street (see map below) that, along with most of the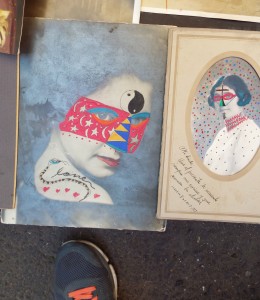 rest of the city's neighborhood markets, were upgraded in the 50s and expanded to provide space for the massive amount of vendors that had gathered around its original parameters. And, like all those other markets, the building space was simply not sufficient for the amount of informal commerce that surrounded it and vendors and stands continued to spill on the surrounding streets, selling food, used clothing, antiques, books, perfumes, sunglasses, and a million other objects. The open-air, outdoor market part of La Lagunilla is what brings it its fame however. The tradition of these type of markets —  tianguis — dates back to Mexico City's ancient inhabitants, when in what is now the Merced Neighborhood and Colonia Tlatelolco, the region's largest markets bustled with buyers and sellers of all kinds.
Walking though the outdoor aisles of La Lagunilla the strains of Duke Ellington merge into Paul Simon transitioning to Salsa and Reggeaton. Boxes of multicolored thread, dusty couches, sepia-toned photographs and ancient wood carving tools mix with light-up cellphone covers, winter coats for a 50p, fur hats, and bracelets with pendants of saints and good luck charms dangling delicately from their strings. You can get your haircut, grab a massive michelada, have lunch, get your nails done and shop for just the right addition to your antique radio collection all on the same day.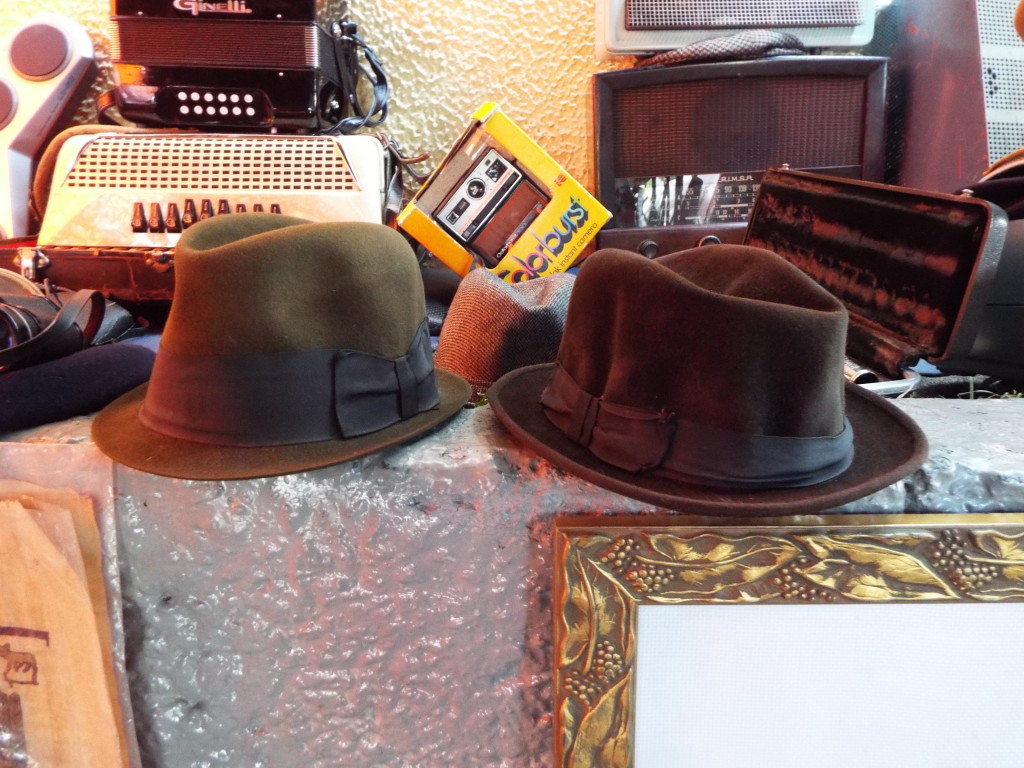 The smell of mixiote tacos and grilling bistek mingles with frying potato chips, marijuana and incense. The aisles are tight and crowded,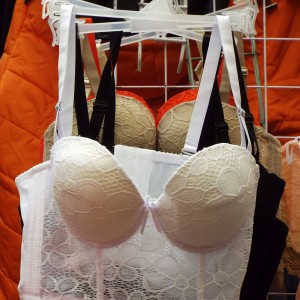 growing ever fuller as the day goes on, peaking around 2 or 3 in the afternoon. If you don't like chaos, noise, or too many people, stay away. If you can stand all those things, nay, embrace them, you will get an upclose look at some of the many facets of life in Mexico City — street food, neighborhood life, the informal economy and the vibrancy of Mexican culture past and present. The danger factor is overblown in this foreigner's (call it reckless!) opinion. Keep an eye on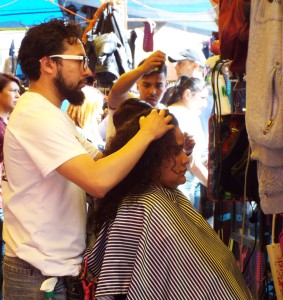 your things and don't go pulling out 500p bills to purchase a 50p beer, but don't worry too much either.
Like I said, the market really gets hopping later in the day, but mornings are a great time to visit as well and you will find most stands at the very least are setting up by 10 or 11am. Some vendors are sensitive about pictures, both of themselves or their merchandise, so always ask. It's better to take small bills and coins since small change is Mexico's rarest commodity.
It's easy to get turned around in the maze of stands, but any vendor can help you find the metro or a particular street if you can speak a little Spanish, and, if all else fails, a good gps on your phone will help. You can get to the market on the metro, getting off at the Garibaldi/Lagunilla stop and heading north on Reforma. On Sundays, Reforma Avenue is closed off to traffic for bikers and walkers most of the way from the Centro Historico to La Lagunilla providing another way to get there while enjoying some of the city.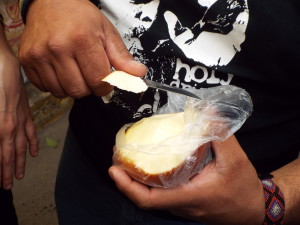 La Trinchera is a stand in the middle of Gonzalez Bocanegra street that serves great sandwiches and pizzas, La Puta Padre is run by a Spanish friend and serves delicious paella. Make sure you try one of the bustling taco stands set up under red tarps at the end of Bocanegra street and stop at one of the many michelada stands through the market for a "La Lagunilla special," which is a massive beer rimmed with salty sweet chile or chamoy coating. Fried and flavored potato chips are also a big hit here.
Vendors don't tend to really bargain, but every once in awhile you can get them to lower it a few pesos. It is definitely a place in the city to buy cheap (and sometimes cheaply made) clothes, bongs, incense, pirated cds, old postcards and the occasional gem of a vinyl record, but the antiques aren't as cheap as what you find in the Pushkin Park market in La Roma. Don't be dissuaded by anyone who tells you it's not a good place for tourists, la Lagunilla is a quintessential chilango adventure.
Looking for a tour of La Lagunilla? I run open tours every Sunday for up to six people. For a quote and details send me an email!
For other city adventures make sure you read about
Hipster Food Courts
, the
Bell Tower Tour
,  the
Polanco Aviary
, and
Mexico City Museums
.