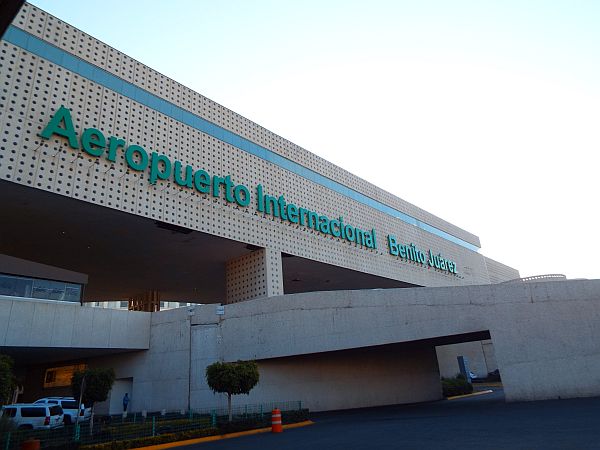 For me, one of the most frustrating things about traveling is arriving at the airport. Wherever you are in the world, it seems transportation from the airport to the hotel or city center where you are going is outrageously expensive. I get particularly hot under the collar in Mexico, where I know there is a cheaper, local option to getting where I need to go but the fact that I'm a stranger to the city means I usually don't know what that is.
So. I've become inspired to write this post about the Mexican airports that I am familiar with and how to get to and from cheaper (not always easier). If you don't care how much it costs and you just want convenient transportation, stop reading now and take one of the expensive airport taxis that you will be offered upon arrival. I'm writing this from the perspective of someone like me, who lives in Mexico and lives in pesos. I realize that the prices of the taxis that I am about to mention will seem a pittance to some foreign travelers, but for anyone trying to travel on a budget, I think this info will be helpful.
I also know I am going to get some blowback for my suggestion that people use Uber, but in Mexico the taxi rates are so unregulated that they can really try to stick it to you when they think you have no choice (like at an airport). In addition, Ubers always gps (a heaven sent when most cabbies don't know where they are going) and you can pay with a credit card which hasn't yet come to regular cabs. I know I may be putting money in Trump's pocket with this suggestion, but I am trying to make your life easier, so it's up to you if you want to use the service.
Here is what I know about the airports that I have visited in Mexico: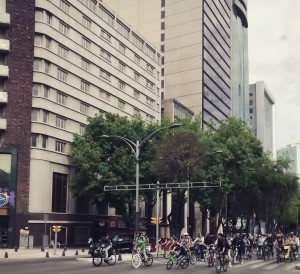 MEX – Benito Juarez International – (Mexico City)
This is probably the airport I know best, having been in and out of it so often. Here are a few tips:
Getting to the City: The metro is a great cheap option (5p) if you have few bags or light bags. If you arrive into Terminal 1 you walk towards Puerta 1 all the way at the end of the terminal, exit and follow the curve of the sidewalk past the cab stands, you will come upon the metro entrance on your left. From there it's just a matter of knowing which metro stop is your final destination and making the transfers, you will almost always make at least one transfer. It will take between 40 minutes to an hour to get into the center of the city if it's not rush hour.
From Terminal 2 you take the inter-terminal bus to the Hangares metro stop. The bus leaves from outside the far-right door of the airport. That means if you are arriving domestically, the door right in front of you as you exit security and if you are arriving internationally, to your right at the end of the hall. You will see taxi stands outside the door, the bus stop is behind them on the ground level. There is also direct bus from the Mexico City airport to Queretaro which is around 380p (and a good way to get to San Miguel de Allende, buses leave from Queretaro to San Miguel about every 15 minutes).
Of all the airports I have been in this country I think the authorized airport cabs in Mexico City are the most fairly priced, but they are still almost double what you will pay for an Uber from the airport to the center of town. Regular cabs can't pick up passengers at the airport so the airport cabs or calling an Uber are your two choices, unless you want to cross over the highway to the cab station on the other side. If you walk out door #7, you can see it from there, but I don't think a first-timer to the city is going to feel totally comfortable doing that and negotiating a price so I recommend the other options. When you order an Uber to pick you up at either terminal you will see options for which door you want your pick-up to come to.
Inter-terminal travel: The Mexico City airport has two terminals and an inter-terminal bus that leaves from outside door 7 on in Terminal 1 and the stop I just described above in Terminal 2 (the shuttle was 12p the last time I road it). You can take the inter-terminal indoor train only if you have a ticket in hand, so if you've printed your ticket you could use that option. It's on the second level of Terminal 1. It's ALWAYS important to know which Terminal you are flying out of (or your guests are arriving into). Most flights come through Terminal 1, but all AeroMexico flights go in and out of Terminal 2.
Getting to the Airport: The airport has its own stop on the metro called Terminal Aérea (don't get off at Hangares, the stop I previous mentioned, it won't take you right to the airport), on the yellow line (#5). The city metro is super easy to navigate and from the city's central neighborhoods it will take you between 45 minutes to an hour to get there. If you are headed to the airport during peak rush hours of the metro (7am to 9am, 6pm to 9pm) give yourself at least 40 additional minutes. Again, I don't suggest this route if you have lots of heavy bags. The metro is notorious for being un-rollerbag friendly with LOTS of stairs (God forbid you were in a wheelchair and wanted to use the metro). If you do take the metro, depending on which side of the yellow line you are coming from, you want to follow the signs to exit for the TERMINAL, the other exit will take you out to the road and you will have to cross the pedestrian bridge and cross the highway to get to the airport.
Alternatively, you can call ahead for a sitio cab (hotels have a list of companies they use) which will cost probably an additional 30 pesos on top of what a regular street cab would cost you, or get an Uber. From the Roma where I live, an Uber to the airport generally costs me 90-120 pesos (never any less), but at an hour with little traffic I can get there in a street cab for 60p. A sitio, call-ahead cab, is usually around 100pesos. NEVER take a street cab that doesn't have a working meter… they will charge you an arm and a leg.
On a gringo side note: You can buy the NY Times in Terminal 2 at the newspaper/magazine shop near the food court and in Terminal 1 at a newspaper/magazine shop in the gate 30 area. 😉

GDL — Miguel Hidalgo y Costilla Guadalajara International Airport – Guadalajara
The Guadalajara airport is pretty far outside of the city and so any transportation to and from is going to take awhile, here's what I know.
Getting into the city: Guadalajara has Uber and that's what I used last time I was there. I took an Uber from the airport to the old city market (San Juan de Dios) and it cost me around 90p. If want to take a taxi, your only option are the authorized airport taxis and they run you about 300-350p to get into the heart of the city. There are authorized taxi stands to purchase a ticket on either end of Terminal 1 but the prices are based on zones so you will need to know the specific address of where you are going to and be able to explain it or give some basic instructions to your driver on how to get there.
Local buses that take you into the center of Guadalajara or to other Mexican cities are all located in the Terminal Terrestre (Ground transportation Terminal) of the airport that is accessible via the inter-terminal shuttle or a short walk from either Terminal 1 or 2.  There are two local bus options, one that drops you off at Central Vieja (12p), the old bus station in the middle of town, and one that simply takes you to "Centro." (6p). Look for either "CENTRAL VIEJA" or "EL CENTRO" on the front windshield of the buses at the terminal. From either of those destinations you will have to take a cab, bus or walk to your final destination.
You can also take a shuttle either provided by your hotel (check with them advance and arrange it) or Shuttle GDL which has service both to and from the airport for 100p. Their website was "under construction" as I was writing this, but this email was provided on their Facebook page as a contact.
Getting to the airport: Same options apply in getting to the airport, a regular cab will cost you about the same, if not a little bit cheaper (300p), an Uber the same price and a shuttle from Shuttle GDL 100p (check with them about their scheduled departures).
For the bus, you can catch an Airport bus from Central Vieja about every 20 minutes and the cost is 12p or you take the local 176 leaving from the Dos Templos stop. Look for "aeropuerto" on the window. There is also a direct bus that leaves every hour from the Autotransportaciones Aeropuerto office.
Inter-terminal transportation: Transport between the terminals at GDL is free and the buses leave from a stop outside the international arrivals gate.
I stole the majority of this information from www.discovergdl.com's post about airport transportation, while updating and checking on a few things independently.
PVR – Licenciado Gustavo Díaz Ordaz International Airport – Puerto Vallarta
This is the most recent airport where I got furious because they wanted to charge me an outrageous amount and told me there was no other way for me to get into the city. Walking out of the departures area in this airport is stressful (although not as stressful as Cancun) because everyone is trying to hawk their transportation services and large groups of people are often trying to organize transport for their groups.
Puerto Vallarta also has no Uber and seems to have a taxi mafia running the place. The town is TINY and yet any cab in any direction for any length of time costs you minimum 60 pesos (I didn't get in a single cab with a meter). ALWAYS  negotiate a price in advance and if you end up having to go further than you originally thought, check in with your driver. Last time I was there I had to go an additional 6 or 7 blocks and my cabbie wanted me to pay double.
Getting into town: The center of Puerto Vallarta is only about 15 minutes from the airport which is what is so infuriating about them wanting to charge you 350p to get there in an airport taxi, but if you want the most convenient option go ahead and hire one.
The bus into town leaves from a stop to the left of the OXXO outside the airport (along the highway) and costs 8p. This will take you to Hidalgo Plaza and then you will have to take a cab or additional bus to get to where you are going, but I guarantee it will be cheaper overall than the airport taxi. The most convenient option if you are staying in a hotel is to arrange a hotel pick-up in advance. They can be as cheap as 75p if you are in a van with other guests. Check with your hotel and see if they offer a transfer service.
You can also arrange shuttle service through one of the transportation providers like Superior Tours Vallarta (35 TO 50usd per vehicle), Puerto Vallarta Tours (10-20usd per person) or others — there's a wide range of prices to choose from.
Getting to the Airport: You can very easily take the bus from the center of Puerto Vallarta to the airport. You will want to ask a local or your hotel where the closest bus stop is and look for one that says "Aeropuerto" on the windshield. There is also a bus from Sayulita that despite taking an hour and 20 minutes is just as convenient. The bus will cost you 8p either way (the bus to and from Sayulita is about 80p each way). But it's hot in Puerto Vallarta and the bus might be crowded, so your other options are to arrange for a shuttle from your hotel or haggle with a taxi driver to take you there. Expect to spend upwards of 300p for a regular cab, and a hotel shuttle will be markedly less expensive if they have a regular schedule of trips and might even be free depending on how fancy your hotel is. For anyone staying in the hotel zone that wants to take the regular bus you will need to take an additional local bus from the hotel zone to the city's main plaza to catch it (it's a straight shot and easy).
You can also arrange a shared shuttle to the airport, see above for information on companies and prices.
Side notes: The airport is so small — only the one building — so no inter-terminal travel needed. This also means very few food and drink options — a Subway sandwich shop, a small, generic coffeeshop, a bar outside with overpriced cold beers and Mexican snacks — so take that into consideration if you think you're going to be hungry.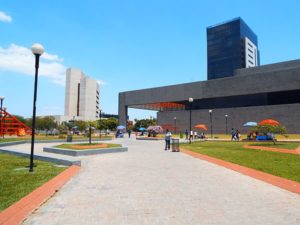 MTY – General Mariano Escobedo International Airport – Monterrey
Maybe one of the most expensive airport rides I was offered was in Monterrey, with a trip from the airport in  Monterrey to the upscale neighborhood of San Pedro over 600p. I found a way to avoid it, but public transportation was a tad complicated. Uber is in Monterrey, along with a similar service called Cabify and both work great. Here are my notes:
Getting into the city: So the last time I was in Monterrey I took the bus into the city. It's nicer than just a regular city bus, air-conditioned, and will cost around 80p to take you to either of the city's main bus terminals (Terminal Fierro, locally called Y Griega, or the Central de Autobuses). These buses leave from the various terminals of the airport about every 20-30 minutes. There is a stand in each terminal that sells bus tickets (also direct tickets to Saltillo and other locations nearby by bus) and they can tell you when the next bus into the city leaves and from which terminal. The inter-terminal bus is free and fast.
From either of the city's main bus stations you will have to get a bus, street taxi, or Uber to your final destination. I suggest, if you want a cheaper regular cab, skipping the taxis seguros stand in the bus stations and walk outside to catch a cab on the street. I found the taxi drivers in Monterrey to be admirably honest about their meters and prices, even if they didn't ever know where I was going (bring your phone and gps if you can). Check to see which bus station is a better end point for your final destination.
Uber is another easy option from the airport and is less than half the price of an authorized airport taxi. There are no regular cabs allowed to pick up passengers at the airport.
Getting to airport:  Since Uber has made it here you can easily use that service to get you to the airport but there is another taxi service, Cabify, that offered a better price last time I was there (Cabify was about 100p cheaper than my price quote on Uber). The only issue is that you have to set up the Cabify app in advance on your phone (it works the same way Uber does) with an automated charge to your credit card. A regular street taxi will cost you around 250p to the airport from the center of town.
You can also get to the airport via public transportation on the bus. You can take a cab, the metro, or another local bus to the Monterrey bus terminal whose official name is Terminal Fierro but is known locally as Y Griega (because it sits at a Y-shaped intersection.) If you take the metro, you get off at the Y Griega stop. From there you can either take the Vivaaerobus bus line or the Chihuahuense bus line that will take you to the airport (about 80p).
Hotels also often offer services but since it's not an overly touristy destination, the service is more like a cab than a shuttle with other people and will most likely be just as pricey as taking a regular cab, if not more.
Side note: The airport is a way outside of the city and my Monterrey friends say that the highway that leads you to it is often jammed due to accidents. Plan accordingly.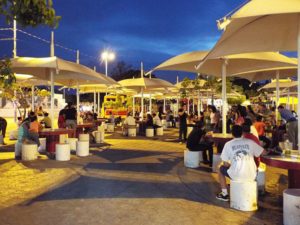 CUN – Cancún International Airport – Cancun
Cancun is a lot like Puerto Vallarta in the fact that it's a very touristy airport where you will be bombarded with people hawking you transportation options. There are two distinctive areas where you will be going in Cancun, either downtown or to the Hotel Zone, which is the strip of land between the lagoon and the ocean where most big-name hotels are. I talked to Kristin Busse and Kelly McLaughlin, two Cancun bloggers to round out my knowledge about this airport, and here is their knowledge and mine combined:
Getting to the city/hotel zone: Like most airports in Mexico, there are "authorized" cabs at the Cancun airport that are the only cabs allowed to take riders from there. These will run you about 50 bucks to get to the hotel zone, and might be more than that if you don't book in advance (There are about a million transportation companies that you can book with, including Supershuttle, or getting info through the Cancun airport website about courtesy shuttles). You can also pre-book a hotel pick-up (arrange with your individual hotel) or take a shared shuttle (pre-booked or day of) which runs around 15$ per person and will take you directly to your hotel. There is Uber in Cancun but both of my blogger sources said it wasn't a great idea to take them because there has been a lot of backlash from the taxi driver unions and some violence against Uber drivers there. It is technically "illegal".
Your cheapest option (unless you can get a free hotel shuttle) is to take the ADO bus from airport which leaves from Terminal 2. Most international flights arrive at Terminal 3 but there is free inter-terminal transportation. The bus will cost you around 72p and will take you either to downtown Cancun or Playa del Carmen. The buses leave about every 30 minutes and the last one leaves at 12:30am so late arrivals should make other arrangements. There is a ticket counter in each terminal with the distinctive red and silver logo.
Once at the main downtown bus terminal, you can take a local bus (10.5p) that says "HOTEL ZONE" on it out to the hotel zone (know where your hotel is so you know where to get off) or you can take a street cab to your hotel.
Note: some cabs don't have permission to drive out to the hotel zone, but most do, they are white with "taxi" written on them in green. These will run you from 150 to 200p to get out to the hotel zone, depending how far you are going.
Getting to the airport: Everything above applies going in the opposite direction. For a bus you can take the local bus from either the hotel zone or other areas of downtown to the downtown central terminal and take the ADO bus from there to the airport. For hotel shuttles, shared shuttles or cabs, it's best to arrange in advance on one of the many transportation sites.
Getting around: Cabs run in and out of the hotel zone and downtown constantly and will run you 150p and up depending on where you are going. The local bus goes up and down the hotel zone all day and costs 10.5p each ride, a total bargain for getting in and out of downtown. Before you say, "Why would I go there…?" there is a great local market in Cancun and a whole other local world waiting to be discovered. Plus the bus going up and down the hotel zone will also take you to: other hotels, shops, restaurants, the massive Chedraui grocery store and the Isla de Mujeres ferry that are all along this strip. The buses are almost never air conditioned but what do you care? You're wearing flipflops and a bikini top while the locals are dressed in pants and long-sleeved shirts. No biggie.