SO many people ask me for suggestions when they come into town for where to eat and drink. Even though there is an entire book you can buy about the Roma
, Here are my suggestions for a few other neighborhoods. These are not listed in any particular order of preference. Happy for you to remind me of something that should be here but isn't.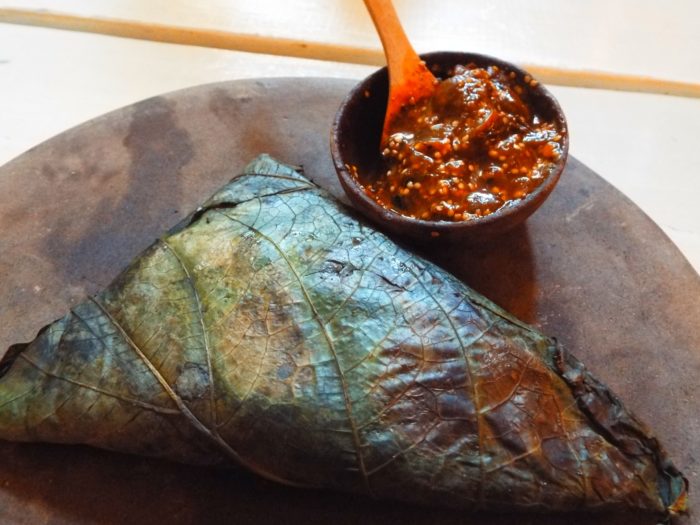 Centro
Cardinal – Even though this place is super popular and can be touristy, I LOVE the conchas and nata (a type of sweet bread and clotted cream) and the hot chocolate made with water so, let the touristing begin! There are several locations, I like the newest one at Marconi 2.
Sophia's Place – A hole-in-the-wall place with no name that serves incredibly thoughtful and well-prepared Mexican food. Blue corn everything and ice cold beers, try the Itacate. Luis Moya 31
Bosforo – Right next door to Sophia's is a tiny mezcal bar that will undoubtedly be too hipster-divey cool for you. Get there early for a seat, there aren't many. Luis Moya 31
Azul Historico – Yucatan Peninsula-inspired food from one of Mexico's most lauded chefs in an enchanting setting in the main patio of the Downtown hotel. Try the tostados de salpicón.
Torre Latinoamericana Bar – Totally overpriced, underwhelming and poor service, but the view is so magical you won't even notice.
Aqui es Oaxaca – A Oaxacan street food stand. Try the tejate (a refreshingly cold chocolate drink) and take home some rolled up quesillo.
Jamon J Jamon – Inside the Spanish Culture Center (which is interesting all on its own), with good wine and Spanish food (and ANOTHER great downtown view).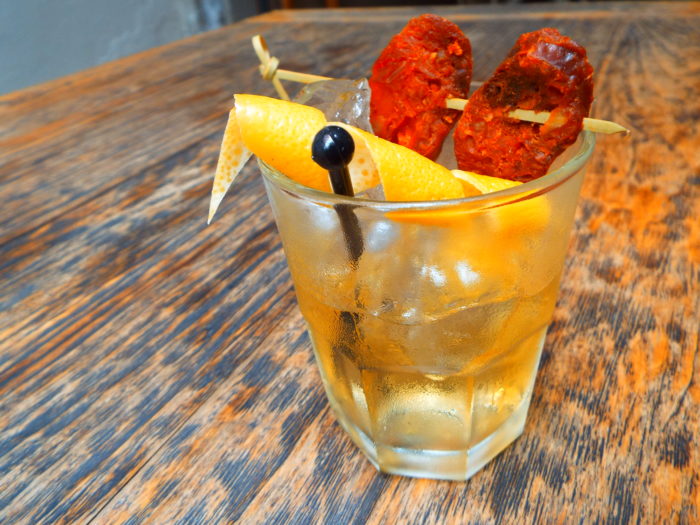 Condesa
Azul Condesa – See above, same guy, same great food.
El Greco – A tiny restaurant with phenomenal tacos arabes, a Condesa traditional.
Tacos Gus – A lunchtime spot with a million different (delicious) options for tacos de guisados (basically tacos with fillings that are a little like stews, not your regular meat, onion, cilantro combo).
Specia – a Polish restaurant right on Amsterdam with a killer view and a lovely borscht.
Rojo Bistrot – A French bistrot in the middle of the Condesa. I like their cheese selection and very long list of fancy gin and tonics.
Tres Condesas – Classic Mexican dishes with a flair. Check them out for Brunch and drink one of the Chorizo Old-fashioneds
Baltra – A cozy, upscale cocktail lounge with homemade drink mixers, and Mexican-inspired classic cocktails. I love the Darwin décor as well.
Kitchen Six – My favorite burgers and beer joint. They have this lamb burger with a yogurt dressing… nononono.
Pizza Franca – Argentine pizza place with nicely priced, good wine. Seating is only really outside, so maybe not a good choice if we are having one of our famous rainy afternoons.
Puebla 109 – Fancy modern Mexican fusion with industrial basement ambiance. The smoky cocktails and soups are bi-winning.
Sesame – Asian-street-food-fusion-delicious-explosion. Samosas and Pad Thai. 
Yuban – A whole heap of different Oaxacan dishes in a slightly upscale setting. I love the rabbit mole.
Las Tlayudas – Great Tlayudas, mezcal and Mexican craft beer. It's a tiny place with a really mellow, friendly vibe. Breakfasts here are stellar and they sell Oaxacan products like chocolate and coffee.
Cabrera Siete – Regional dishes from across the country, very pet friendly and with great views of the Luis Cabrera Park.
Pan Comido – A vegan/vegetarian place with great breakfast/brunch and coffee, also very pet-friendly (that could be a theme in this neighborhood).
Maximo Bistrot – Roma's finest and fanciest, but truly, the food is delicious and worth the pesos for a special occasion (or everyday if you've got money to blow).
Rosetta– The bakery has great bread and sweet rolls, the Italian restaurant great pasta and wine. Try the bone marrow appetizer.
Delirio Abarottes – A WAY better location for outside seating than the original Delirio on Monterrey, but this one doesn't have the full med-mex menu as the other. Sandwiches, coffee, pastries and delicious fancy deli shit.
Cocina Conchita – Inspired by Baja street food and run by Chef Diego Hernandez, they are now open for dinner. Seafood tostados, fish tacos, seared tuna. Yum.
Juarez
L.B. Dining – Delicious Asian fusion in the upper level of the hipster interiors store Loose Blues. They also have Mexican craft beer.
Cicatriz – Right next door from Loose Blues in the plaza Washington. A limited, but delicious menu, salads, sandwiches, coffee and baked goods. Short-rib sandwich with tomato jam, roasted carrots in tahini yogurt and macha sauce.
Casi Esquina – A casual mini-pizzeria/Italian place. Eat the lasagna. Please. German craft beers.
HOP, the beer experience – A narrow craft beer bar with lots of local brews on tap. Relaxed vibe and some outside seating.
Amaya – Delicious, multi-layered flavors in a menu that defies categorization. Love the grilled cheese lamb sandwich with pickled vegetables and the rabbit stew. 
Comedor Milan – A super simple but delicious diner in a hidden backyard in the Juarez. Grilled Salmon, quinoa salads, chicharron and salsa as a starter.
Parker and Lenox – This trendy speakeasy's interior design makes it feel oh-so-1920s. You have to call ahead for a reservation, don't even try to do it online. Here is the number to reserve: 55 78 93 3140