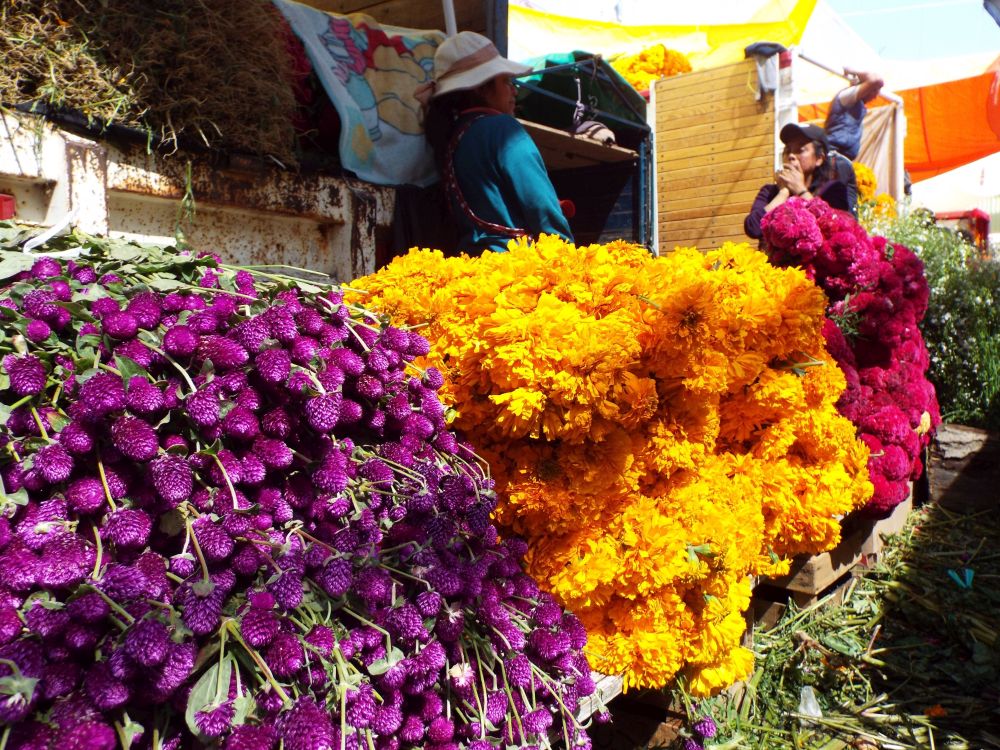 I don't know what it is about this particular 2017 autumn in Mexico City but it feels cooler and crisper than ever. The delight of golden afternoons and chilly breezes is second only to the upcoming Day of the Dead, now one of my favorite holidays after 10+ years in Mexico.
The announcement of its coming is not garish or gaudy, but pops out in the a string of brightly colored tissue paper flags hung in a window or  sugary pan de muerto on the shelves of even the smallest bakery. Unlike what many peple think that have only experienced Halloween, Day of the Dead is a family holiday, a mellow, relaxing time of eating, telling stories and celebrating long-lost love ones.
By far my favorite yearly city tradition is the Day of the Dead outdoor tianguis (market) that sets up along the edges of the Mercado Jamaica — Mexico City's massive flower market. It's really the most appropriate place for such a market, considering that flowers play this outsized role in the festivities — as decoration, as art supplies (petals are often used to make mosaics), and as a guidepost for dead souls as they travel to us from the underworld.
The Outdoor Tianguis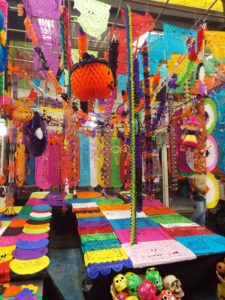 From about the 16th of October to the 4th of November, the tianguis starts to ring the central market's exterior. There are lots of stands selling traditional seasonal treats like candied pumpkin, squash or figs (eaten with just a spoon or as a topping for ice cream or sweet bread), as well as pan de muerto.
Pan de muerto, Mexico's very special sweetbread for this time of year, is flavored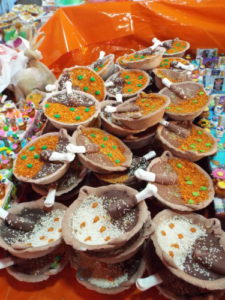 with orange-infused oil and covered in a dusting of fine white sugar. Dough designed to look like a skull and cross bones lays on the top of these sweet rolls. The week or so before the holiday starts (October 30 – November 4th) there are pan de muerto bakers set up right in the outdoor market and you can watch them work their magic.
This market is a mix of ancient Mexican tradition and the modern Halloween. There are old women selling copal and incense to burn on the family altar as well as Terminator masks and Chucky popsicles, costumes of every ilk, giant pumpkin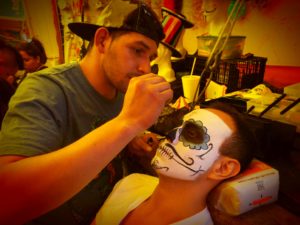 piñatas, paper maiche skeleton dogs, streamers, and hanging decorations of all kinds. Odd-shaped orange and green pumpkins are piled throughout. During the holiday's three days (October 30 to November 2nd) there are stands that will eleborately paint your face to look like an elegant skeleton.
My favorite stands sell tiny imitations of favorite foods — mole with a turkey leg sticking out, plates of enchiladas — created from marzipan and decorated with brightly colored frosting to use on altars for the dead. They also sell sugar caskets and sugar skulls with names scripted on their foreheads in frosting. There are even little mock-up altars with tiny bottles of tequila and an image of a saint or the Virgin of Guadalupe.
Inside the Market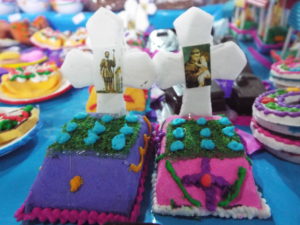 If you enter the market at the far side of the main parking lot (see the map below), the first aisle to your left has even more stands with candies, sweets, decorations for altars and home, and a handful of stands that will be selling cempasúchil plants — the Aztec marigold used particularly to guide dead spirits home.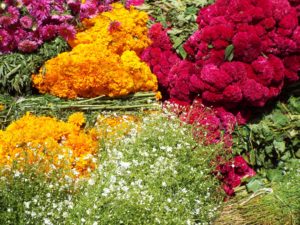 If you take the second left instead you will enter into an open parking area in the center of the market. Here, the last few days of the festivities (this year vendors arrive on Friday, October 27th), rickety delivery trucks bring in tons (literally tons) of cempasúchil, terciopelo, and nube flowers. They built mountains of orange, purple and white in every direction and you can buy a giant bundle for as little as 40 pesos.
While vendors take their job in stride, the sheer quantity and the site of all this beauty leaves most shoppers breathless, at least it does me.
One Last Stop
The Jamiaca market is full of delicious things to eat, but that is a post for another day. During the DOD festival additional taco stands set up outside the market and stay open until about 10pm when the market starts to break down for the day. Make sure you take the time to stop and sample something.
Your final stop should definitely be the market's main altar, which is up all year round and decorated for each season. You will find a fascinating mix of old world and new, with images of the sacred family alongside cempasúchil flowers, sugar skulls and papel picado flags, Mexican religious syncretism at its best.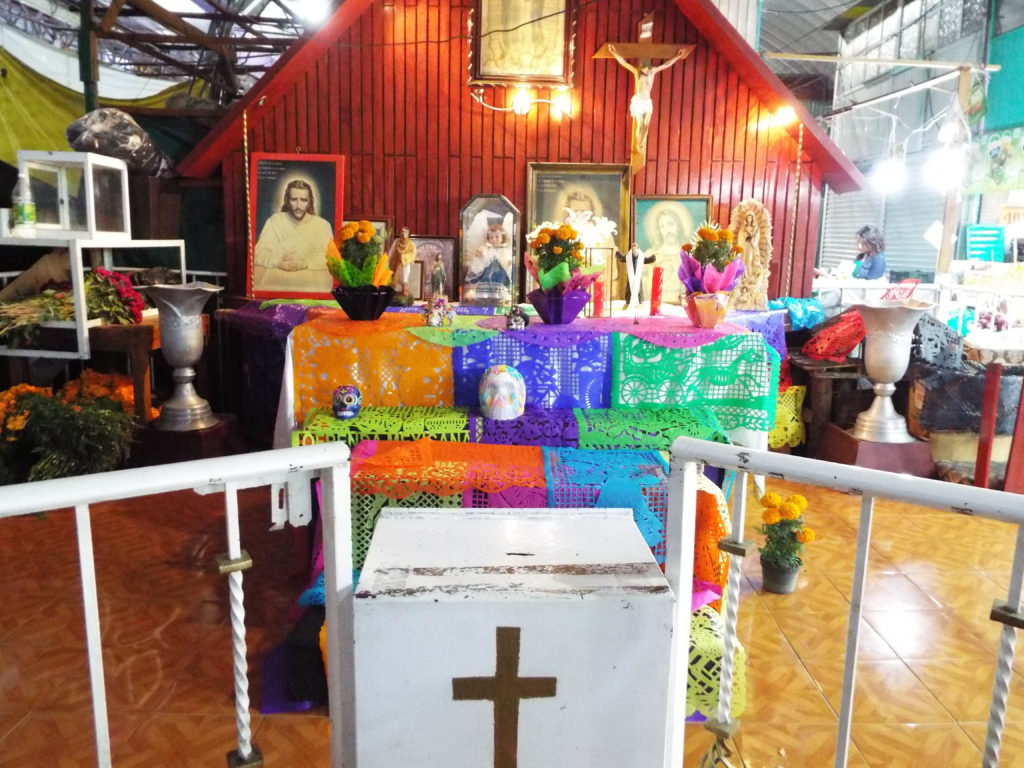 Below is a little map to help you navigate the market with some of the spots I mentioned pointed out. Interested in checking it out but don't want to go on your own? Shoot me an email and arrange a one-on-one tour of the market!