The demand for excellent craft beer in the city is constantly on the rise. It feels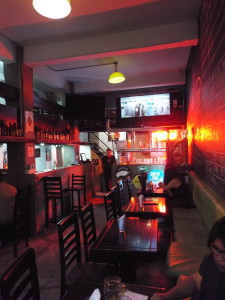 like virtually everyday a new brewhouse opens its door, beckoning you through the with hoppy IPAs, creamy stouts and honey-tinged browns. Some surprisingly good beer is being brewed right here in the city from locals Avis Collem, Escollo, La Chingoneria, Central Cervecera, Radical OH and 19° Norte, to name a few.
Adding to my previous list, here are a few new stops on my personal beer crawl through Mexico City:
HOP, The Beer Experience – Roma 13, Colonia Juarez
Up-and-coming Colonia Juarez is just beginning to sprout craft beer bars. HOP is a narrow outpost on Roma street whose brews are listed on the giant chalkboard wall and include a handful of hyper-local brews made right here in Mexico City. The bar is never overcrowded (just wait till people start finding it) and they say that their busiest night is usually Thursday because of the theater crowd — La Juarez has been a traditional theater district in Mexico City for years and continues to have several good venues for plays.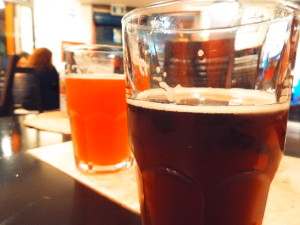 Piloncillo y Cascabel – Torres Adalid 1263, Colonia Narvarte
An unpretentious spot with good food in Colonia Narvarte, Piloncillo y Cascabel has a half dozen craft beers on rotation. The selection is limited but the choices are solid Mexican brands and they stock young, rare mezcals from around the country as well. We had the lemony Schoenfeld pale ale and the Jabali Bock from Primus.
La Buena Chela – Medellín 191, Colonia Roma
With over 40 varieties of craft beer, 70% Mexican labels, La Buena Chela is an excellent place to start your Mexican craft beer education. Their service is decent but your food might come out cold from the kitchen (twice) so maybe just stick with a drink and head around the corner to  Taquería Por Siempre Vegano for some vegan tacos.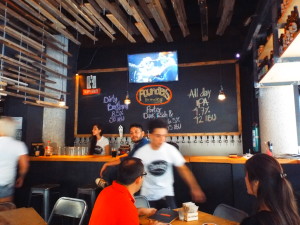 The Hoppy House – corner of Citlaltepetl and Campeche, Colonia Condesa — NOW CLOSED ! SORRY FOLKS!
Newly opened in the Condesa, The Hoppy House can offer you over a 150 choices of craft beer from Mexico and around the world. Among those choices are 30 beers on tap, 20 of them Mexican brands. The staff is knowledgable about what they are selling and will let you try a few on tap before making the big decision. The open design of the bar gives the relatively tiny square footage a big feeling and it's off the major avenues on a quieter neighbor street.
Las Tlayudas – San Luis Potosi 13, Colonia Roma
Not only some of the best tlayudas (and chilaquiles!)  in the Roma, Las Tlayudas also stocks delicious Oaxacan craft beer, not avialable just anywhere in the city. An oatmeal stout and IPA are available from the Consejo Cervecero de Oaxaca, a wheat, red ale, stout and golden ale from Tierra Blanca and various other styles from Teufel, another Oaxacan brand. They also sell Bazooka, Yubarta and 4 Jinetes del Apocalipsis, all local breweries from Mexico City.
Want to take a Mexico City craft beer tour?
We will spend an afternoon wandering two of Mexico City's hippest neighborhoods — Condesa and Roma — trying what is local and on tap and getting to know this part of the city and its history. I will take you to 3-4 of my favorite dives, bars, and tasting rooms, as well as make a few spots for delicious food along the way. Click here for more details about the Mexico City Streets Craft Beer tour in Mexico City.