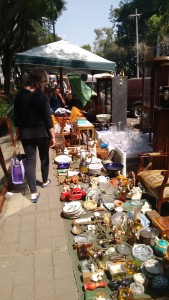 The recent popularity of my post on the La Lagunilla flea market (and the subsequent outpouring of requests for tours there!) started me thinking about other Mexico City flea markets that I like.
The Saturday market in the Jardín Ignacio Chavez is often mistakenly referred to as the Parque Pushkin flea market, because the revamped Parque Pushkin (dedicated to the Russian poet) is across the street, but the Chavez Park is no more than a small plaza in its center surrounded by a wide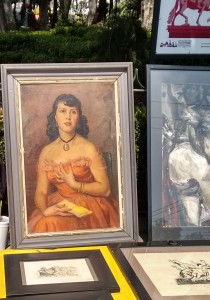 sidewalk that on the weekends is packed with antique vendors. Unlike the la Lagunilla market, here vendors are likely to be a little more flexible with price, willing to bargain with you especially if you are purchasing more than one item. While many of the vendors here also sell at Lagunilla on Sundays, there are some small timers that you will only find at this Saturday market. You won't find the large displays of clothing, artwork or furniture that you can at Lagunilla but instead never-ending collections of vintage toys, jewelry, sunglasses, antique housewares, postcards, records, comic books and other smaller items. A wandering churro vendor is one of the only food options (If you want the overall sensory experience including taste,La Lagunilla IS your option). A full round will take you about an hour and the market is walking distance over to Colonia Roma's main avenue Álvaro Obregón for a little post shopping drink at an outdoor cafe.
The Plaza St Angel (no, not the weekend art market in Colonia San Angel) is a covered flea market in Colonia Juarez. During the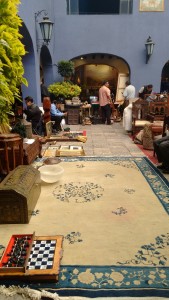 week, the building's upscale antique shops and art galleries are open, but on Saturdays, the passageways between the shops fill with additional vendors. Again, these vendors seem a little more willing to bargain but their wares are more high-end than the other markets I've written about. You can find quality vintage jewelry, art, books, the occasional musical instrument, china and glass, antique marble statues, etc. This market also can be gone through in about an hour, less if you know exactly what you are looking for. It's in a great location in the middle of Colonia Juarez and right across the street is the Insurgentes Crafts Market (which as of this writing is undergoing renovations and so is a little dusty and abandoned) in case you want to check out some of the mass-produced Mexican crafts like rebozos, Huichol beaded animal heads, embroidered dresses, etc.

T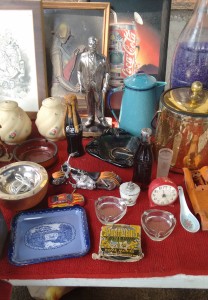 he Portales Flea market has the distinction of being open everyday from 11am to 4pm along Rumania, Libertad and Santa Cruz streets in Colonia San Simon on the edge of the North Portales neighborhood. While this market is held everyday, the days to go are really Saturday and Sunday since that is when you can find the best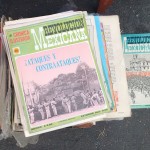 selection and greatest quantity of vendors. The market is more of a true flea market, with all sorts of cheap household goods alongside slightly pricier antiques. You can find used books and clothing, jewelry, 90s vintage pieces, and tableware sets. This market is for those who like a real challenge in their search. The prices are much lower than any of the other markets mentioned, probably because they get more local, less touristy traffic. Near the flea market is the Bazar Reto, a giant warehouse of antique and vintage furniture, and right down the street is the regular Portales neighborhood market with food stands, produce sellers and household goods all inside one single building — this market, unlike some of the city's smaller neighborhood markets, is still consistently lively every day of the week. (If you go by metro make sure you get off on the right side of the Portales station, you want to follow the signs for the Calle Santa Cruz exit).
Want to make a weekend of it? Get in touch with me and we can arrange a tour!
Also check out Sundays in La Lagunilla, Mornings in the Medellín, and Mercado Hidalgo in Colonia Doctores.