There are many ways people think about Monterrey, Nuevo Leon – Mexico's industrial giant, a haven for the moneyed and the narcos, a Tex-Mex collision of barbecue and soccer. But when I took a break from Mexico City this spring to check it out. I found there was a lot more culture and attractions than I had expected. I also learned a hell of a lot about Northern Mexican cuisine and ate at some great Monterrey restaurants.
The city has come a long way. In the early 2000s Monterrey was plagued with violence until an unusual public-private coalition shook up the way that the city was policed and has taken back the streets, known for high rollers and nightlife. If you haven't ever been or haven't been in awhile it's time to rediscover Monterrey. I was such a tourist there that I didn't exactly do off-the-beaten-path Monterrey, but since so few of you have probably ventured into this northern city, let's start with some of the basics: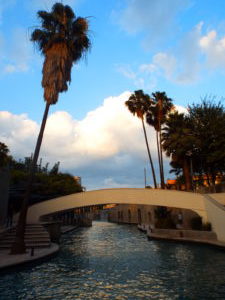 Parque Fundidora/Paseo Santa Lucia
A nod to San Antonio's famous riverwalk? Maybe, but the Parque Fundidora, besides having a few cheese factors — the 10-minute guided boat tours, gaudily-lit fountains everywhere — is by far the most well-kept, orderly and greenest park I've ever had the pleasure to walk through in Mexico. It's almost like being on a movie-set and for those of you who had heard me complain about trash cans in Mexico City, you know I was THRILLED to see them everywhere I went.
The park is 350 acres of bike and walking paths, large green spaces for playing sports or having picnics, an auditorium where concerts are held, a sports arena, the Fundidora Museum and its restaurant. The entire park is built atop the land that was once Latin America's first metallurgy company, the Fundidora de Fierro y Acero de Monterrey. When the company went bankrupt in the 80s, the land was given to the government but it wasn't until 2001 that the park was fully finished. Along the paths you can rent a bike from the Monterrey bike share program Todos en Bici. Monterrey's heat is one of visitors' biggest complaints, but a stroll down by the river (and maybe a run through a fountain or two) will definitely take the edge off. Sad side note: No dogs allowed.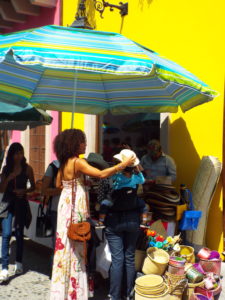 Barrio Antiguo
Almost everything in Monterrey is modern, modern, modern and that is the way the Regios (Monterrey locals) like it, but the Barrio Antigua, the city's old downtown, is experiencing a revival that shouldn't be missed. The violence that besieged the city for years was played out in many of this neighborhood's bars and nightclubs, causing a mass exodus of business owners from the area. But things are beginning to turn around and the Barrio is starting to get its groove back; Irish pubs, vegan Indian buffets, third-wave coffeeshops and beer (lots of beer) are tempting the crowds back into the historic downtown. The Taller Veganico is working that healthy, non-meat-eating side of Monterrey (it does exist!), Almacén 42 is lifting everyone's spirits with 42 taps of local craft beer, and restaurants like Madre Oaxaca and Lannilli are bringing back the dinner crowd. Downtown is small, you can cover it in less than an hour, but it's lively.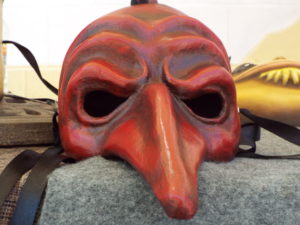 On Sundays an arts and crafts market sets up along the most transited streets and under the cover of the municipal building, seniors (and a handful of youngins' ) dance to salsa and danzón. Food truck rodeos, slow food restaurants, and brightly-painted 18th century architecture are all worth at least a day or two exploring the Barrio Antiguo.
Museums
To say I'm not such a museum-goer is an understatement, but I hit up FIVE different museums in Monterrey — WAY beyond my normal limit. While I thought the Museo del Noreste was fascinating for its history of Northeastern Mexico and Southeastern Texas as a single region (I doubt the Texans feel that way) and the Museo de Historia Mexicana piqued my curiosity with its ancient artifacts, the museums I really liked were a little more unusual. A new Regio friend chauffeured me to the Cervecería Cuauhtemoc beer factory where you can get a FREE beer and enjoy it in the sun on their outdoor patio.
The red-brick monster of a factory was built in 1980 and is one of the oldest and largest beer companies in Mexico (now merged with Cervecería Moctezuma, originally from Veracruz, and Heineken, the Dutch beer giants). You can send them a message on their facebook page and set up a guided tour of the factory, but since we were on an extemporaneous visit we didn't get one (but a FREE beer?! I mean even if it was a Tecate…)
On a boiling hot day I visited Monterrey's Museo del Vidrio, historically intertwined with the Cervecería Moctezuma. The Vidriera Monterrey, today known as Vitrio, started making beer bottles in 1909 to meet the growing demand, along with all kinds of other bottles and glassware. The museum is located on the current factory grounds (you can peek in factory windows and see bottles going down the conveyor belt like you're Laverne or Shirley) in the company's old general offices. It's a three-story house with a great collection of glass baubles and bottles, but the best attraction is a looped video of a master glass maker, which I found mesmerizing.
Then there is the MARCO (the Museo de Arte Contemporáneo) in Monterrey, which everyone will rave about so much that you will begin to wonder if it could really be that good… but then it is. In my opinion one of the country's best contemporary art museums, I loved the exhibits I saw and the museum itself inspires the kind of artsy-chill moments that are usually reserve for the Art Institute of Chicago or the MOMA. It's not just grand-standing, it's great.
Parque Ecológico Chipinque
There are a couple of really great nature escapes outside of Monterrey which I want to visit including Potrero Chico where this guy climbed a rock face without ropes (my guts churn just watching), BUT it's tough to get around in Monterrey (or outside of it) without a car, so I took what I could get as far as outdoorsy-ness. Chipinque is straight up a winding mountain road and another good escape from the heat in spring and summer. There's a bunch of lookouts, and paths that lead from one picnic area to the next (not high-impact hiking but at least it's a little a jaunt into the woods.) If you head all the way up and eat at the Chipinque Hotel restaurant you can get a great view of the city below and you might even run into some coatis, which are basically trash-eating, long-snouted raccoons that might just sniff you for something good (watch out, they have big teeth).
 Tianguis Campesino
The vibe I got from talking to people about this outdoor weekend market is that it is a place where most high-class Regios wouldn't be caught dead, but the Tianguis Campesino is truly fascinating for anyone who gets a thrill out of discovering previously unknown fruits and veggies, trying local recipes, and getting a feel for regional food culture wherever they go.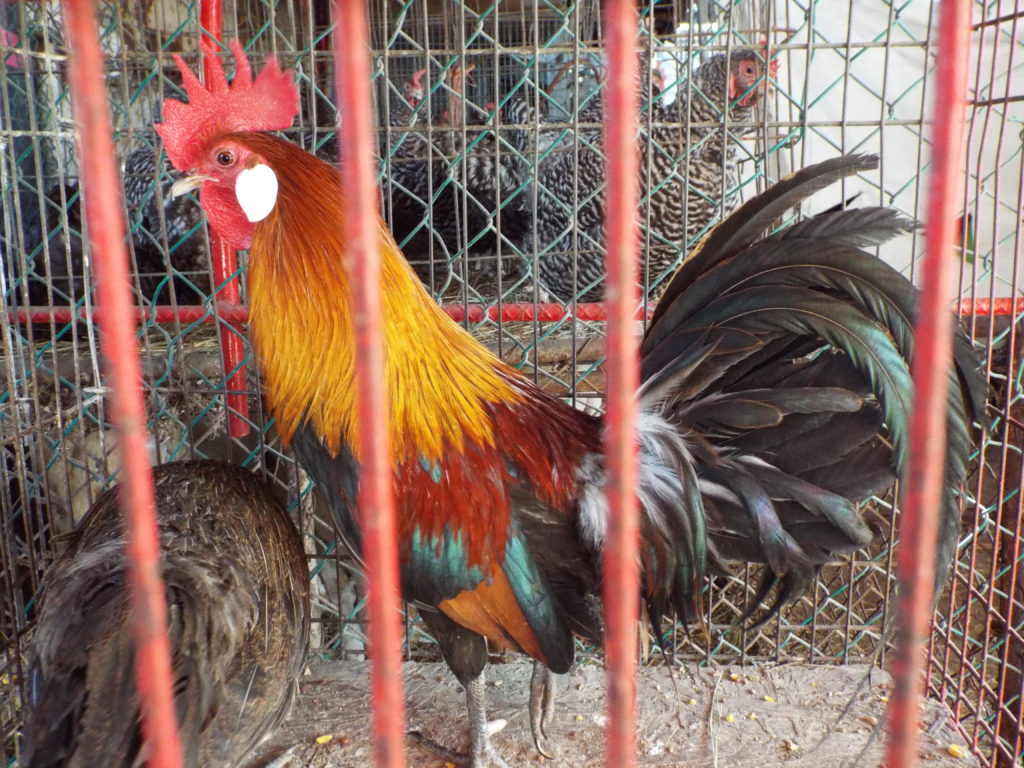 The market used to be an old train station in the 1950s when the trains would run in from all over the country and farmers and ranchers would come down to sell their livestock and produce from places like Zacatecas and Aguascalientes. The train no longer runs, but the farmers still come and it's the city's most traditional venue for buying fresh meat… I mean… you pick out the live animal and they lead it off to the slaughtering room and skin it for you… that fresh. There's a lot of blood and gore but don't let anyone tell you that's all there is to the market. Homemade vinegar-based northern salsas, turkish-style sweet breads, endemic fruit and chiles, regional recipes, and lots of fresh-grilled flour tortillas.
The market also has its fair share of the Mexican tianguis staples — used clothing, shoes, household goods, electronics — but food, produce and animals (alive and dead) are the main attraction.
Food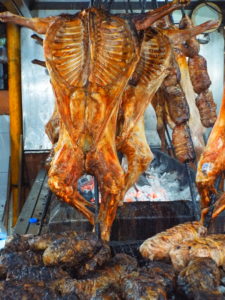 If you're into food (like me) then you will also want to try many of the Northeastern specialty items that you can't find as easily in other parts of Mexico. I already mentioned the vinegar-based salsas that I F*@KING LOVE, especially on eggs in the morning, but there are other amazing things not to be missed.
Make sure you try Cabrito, if you can, from somebody's backyard grill with a cold beer in your hand. It's an iconic northern dish of roasted baby goat that is either roasted in a caja china or over an open flame. There are several good restaurants options listed on the link above but you should also give the Mercado Hidalgo a try, the city's last remaining neighborhood market, where you can buy cabrito ready to be slapped on a taco and shoved in your mouth.
Carne seca is also a must-try. It's  closest cousin is jerky but it comes in various forms (Machaca is a dried beef powder, carne seca natural is completely dehydrated slabs of beef and carne de zaraza is partially dry, with just a bit a moisture still to it). There a lots of places that serve up all three types, but Restaurante Capri is a famous spot on the highway to Montemoreles south of the city… go for breakfast, the options are amazing. You can stop at one of the many stands along that same highway and pick up a bag or two to go.
I also had the rare experience of hanging out with a vegan while I was in Monterrey and feel therefore obligated to give a shout out to all my vegan peeps that I have tried to help find good eats in Mexico City. There are three places that came highly recommended from my vegan buddy — kind of amazing in a town that is to most Mexico's meat-eating capital (Regios eat an average of 66 pounds a meat a year, almost double the rest the the country's average).
The Taller Veganico is one of the city's most happening spots for vegans and non-vegans alike. It is housed in what is ACTUALLY, by day, a mechanic shop at its San Pedro location. They serve bowls of vegan goodness, soups, salads, and dozens of varieties of vegan burgers and tacos. Their downtown location is one of the eateries that has become a part of the Barrio Antiguo's revival.
Also downtown is Tres Lunas, a slow-food joint which has a vegetarian and vegan menu as well as one for meat eaters (for all you bi-culinary couples out there). The food is seriously slow (that's the idea right?) so I beg of you not to come with hunger pangs already roving around in your belly… And maybe don't sit on the upstairs patio unless you are almost comatose. They have a set meal each day with a veggie or meat option and then about a million things on the al carte menu. The banana crepe is a monster, but delicious and worth the wait. In fact just the baked goods and ice cream are reason enough to find your way back to Tres Lunas again. The graffitied walls feel a little cliche, but the ambiance has it's hippie allure.
Finally, There is the Oveja Verde, a taco shop that's a little out-of-the-way and not easily accessible without a car, but my vegan host was crAzy about it. I found the eggplant barbacoa a little too much, but I think I have made it clear in the past that I may not be the best judge of what delights a vegan's palate. My bigger beef (no pun intended) was that they didn't serve beer, I mean come on, no animals were harmed in the making of a Victoria.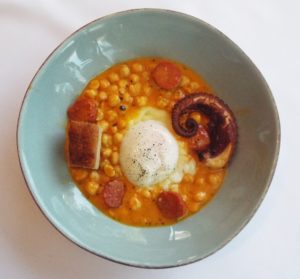 (I didn't get a chance to try the Terrenal Cafe at the Amaya Centro holistic health clinic so I can't speak to its tastiness, but I do know they offer a menu that will made vegans and vegetarians happy).
Unfortunately, one of the things that Monterrey lacks is really good street food. I couldn't get any good suggestions for it and someone explained it to me this way " who wants to eat tacos on the street in 90-degree weather" – well, me, for one. If you have a good suggestion send it along for my next visit. What the city does have plenty of though is fancy joints — lunch and dinner spots with a good nod to regional cuisine and some inventive alternatives. I hit up the classic of all classics Pangea, run by Guillermo González, one of the forerunners of the northern food movement, and while I did have the most perfectly cooked octopus in my life (shown above in a heavenly garbanzo cowboy stew), I wasn't blown away — particularly by the insipid tomato I ate with (very good) pesto. When will the fancy places learn to pop for organic tomatoes!? Maybe I ordered wrong? I did however like both of Chef Marco Aceves' places (and really, how can you go wrong with a Chicago-native Mexican-American transplant?), Trust and Goose Island.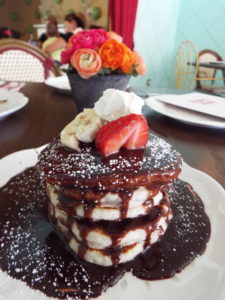 Trust is for lunching ladies and anyone who wants a decadent breakfast (barbacoa with poached eggs in a chipotle hollandaise anyone?). They are soon moving to a new location, hopefully with a little more pizzazz then the current tiny strip mall they are in — but that's car-centric Monterrey I came to realize. Goose Island serves some of my favorite hometown beers made by Goose island in Chi-town and Marco's wild variations of his favorite pub food (think Mac n cheese with Doritos crumbled on top). Honorable mentions also go to Madre Oaxaca downtown, the Seabird coffee place and Pispi and Mau for the brunchers with kids reading this. — see the stack of pancakes to the right (not only that but the place has its own upscale playroom for the kiddos).
Booze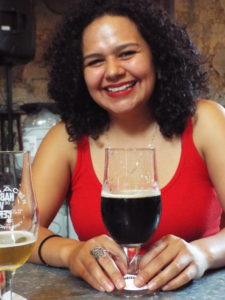 I have to say that almost everywhere I went in Monterrey I was met with delicious craft beer, but Almacén 42 was my favorite spot on the crawl. They have 42 craft beers on tap including 6 made in-house (they are the makers of Albur beer). They host a round of local breweries for monthly events right next door to their shipping-container-turned-bar that I wished I could have attended. I was also delighted by the very classic Cafe Iguana which we happened into on a mellow night and saw a great local jazz band while drinking forties out of paper bags. It was as amazing as it sounds.
Bars and nightlife are coming back to Monterrey so be on the lookout for new spots as they open. I heard positive things about Maverick which has cocktails and jazz and Backroom, also known for their cocktails. Also be sure and try local beers from Propaganda (my particular favorite is Hipster Joe), Bracino Cervecería and Santa Co. Stay tuned for the next Monterrey list (more down and dirty on the next trip), in the meantime, go check it out.
 Want to check out some other great Mexican cities? How about my other new fav, Guadalajara. Want to avoid the pricey airport ride from Monterrey to town? Find out how to travel cheaper. Want more vegan spots? Eating Vegan in Mexico City